Dolphins vs Jets road game Summary

11/29/15

Grading the Dolphins

QB Ryan Tannehill had a bad game. The stats are just garbage time stats (33 of 58 for 351 yards, 3 TDs and 1 INT). He missed WRs and was awful in the pocket. The Phins just couldn't score. C

RB Running game ? What running game ? They ran 9 times for 12 yards. F

WR Matthews was injured early. The worload fell on Landery (13 catches for 165 yards). Parker played for the first time extensively - 4 catches for 80 yards and his first career TD. Stills was below average. C

OL The Dolphins O-line is really just bad. Pouncey got hurt and the team cut Brenner leading to Douglas (trying) to play center. He could not snap. Just awful. D

LB The Dolphins are just not very good at the LB position. First play was a missed tackle that got Jenkins hurt. Ouch. D-

DL Suh is the only one playing over there. OV had a sack and Coples played for the first time. The Jets scored 38 points. D

Secondary Fitzpatrick looked like Dan Marino. Miami's secondary could not cover. The Jets WRs scored 4 TDs. Grimes could not handle Marshall. F

Special teams Another blunder in the coverage game and another wrong decision in the return game. Darr was OK. Franks missed a PAT. D-

Coaching Just an awful game especially by the offense early on. The second half was just garbage time. A top 5 pick is not out of the question... D




On the 1st of November, 1970, RB Mercury Morris, gained a Dolphin record of 302 combined yards. He ran 8 times for 89 yards, received 3 balls for 68 yards and returned 6 kicks for 145 yards.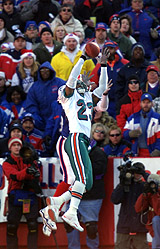 CB Patrick Surtain