Dolphins vs Jets road game Summary

1/12/14

Grading the Dolphins

QBRyan Tannehill did not play well, missed on open receivers or just did not throw them the ball. He only had two passes for over 20 yards and he threw 1 INT but should have had at least 3. The most important thing though is that he did somehow manage to put the team in a position to win the game at the end and that's the most important thing. He finished 25 of 35 for only 235 yards and an INT. D+

RB Lamar Miller ran OK. He did have only 13 carries but managed 56 yards and a TD out of those carries he did deflect a low ball that resulted in an INT that almost cost the Dolphins the game. C-

WR There were only short passes. Wallace (6 for 69 yards) did drop a sure TD (and was wide open on 2 other occasions but Tannehil did not have time to throw him or did not see him alone in the endzone). Landry continues o catch short passes and he finished the game with 8 receptions for 68 yards with a crucial 25 yard catch in the 4th quarter. The best player on offense was probably Dion Sims. He had 4 receptions for 58 yards and his blocking was great. He really saved the day on a few occasions. C

OL The Dolphins run game in the first half was non existent but they managed to somehow keep Tannehill in one piece although he did not have time to throw a long pass all day (and you know Wallace is usually open by 5 yards at times). The Dolphins scored only 16 points against a VERY bad team. C

LB Awful. The Dolphins gave up 277 yards rushing. 210 of them in the first half. It doesn't matter that Jenkins had a million tackles (16 to be precise). 277 yards rushing, really ? D-

DL See LB comment. 210 yards rushing in the first half. They were pushed over easily. It was getting hard to watch. t-w-o h-u-n-d-r-e-d and t-e-n, in one half ! F-!

Secondary Without Finnegan and Taylor the Dolphins were left with new CB RJ Stafford and Aikens playing corner. Thank god Geno Smith is an awful QB. I don't think he can make the Dolphins roster let alone play. He threw 8 passes by the 4th quarter and finished with a season long (leaguewise) of 13. That's 70s football. He went 7 of 13 for 65 yards and an INT. Ouch. This won't be enough against Flacco. The team really needs one of the injured CBs back next week. B

Special teams The good - Dion Jordan blocked a punt. The Dolphins arfe really good at blocking punts this year. Sturgis did miss from 44 and kicked a kickoff out of bounds ? Against the Geno Smith led Jets ? I understand not wanting to kick to Percy Harvin but this was way too much. C

Coaching The Dolphins played a bad game. It took them 210 yards rushing by the Jets to understand Smith can not throw and move 8, 9 or even 10 players close to the line to stop the run. They managed to win an awful game and that's a good sign but they really really have to play better next week in what is basically an elimination game for both teams. C-




On the 1st of November, 1970, RB Mercury Morris, gained a Dolphin record of 302 combined yards. He ran 8 times for 89 yards, received 3 balls for 68 yards and returned 6 kicks for 145 yards.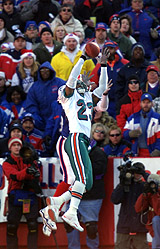 CB Patrick Surtain