Dolphins vs Jets road game Summary

12/12/10

Grading the Dolphins

QB Chad Henne completed 5 passes, that's F-I-V-E completions with 28% completion percentage (5 of 18). He finished the game with 55 yards, Fifty Five - this is no mistake. He did not need to pass much as the defense dominated. He did lose a fumble on a sack. He took four sacks and managed to avoid throwing an INT. He threw a 6 yard TD to Brandon Marshall. D+

RB Ronnie and Ricky ran the ball enough times with mediocre results. Ricky is playing better than Ronnie. Ronnie dances too much before hiting the hole while Ricky hits the hole much faster. With the current blocking there is no need to wait for better blocking resulting. Ricky's style looks like a better fit to this current offense and O-line play. Ricky 10 for 34 and Ronnie 16 for 55 on the day. C-

WR Brandon Marshall was back with the team in the same week Brian Hartline was lost for the season. Marshall caught 2 of Henne's five completions while scoring on one of them. C-

OL Carey was out and Jerry did not start as the Dolphins went with McQuistan and Murtha as the right side of the line. Henne was sacked 4 times, one resulting in a sack-fumble combo. The running lanes were hard to find but this week the team didn't need an offense it was all defense. C-

LB Crowder, Dansby, Wake and Misi all contributed to the excellent play of the defense. Wake had two sacks at the end of the game to push his NFL leading total to 14 in his 13 games. Dansby (one sack) and Crowder were all over the place, Dansby also blitzed and deflected a pass. Misi also played well and the results were obvious. Just great defensive day all around. A

DL A great game. Tomlinson finished with 2.5 yards a carry on his 19 carries and Greene was even worse (8 for 17). They put pressure on the QB (sacks for Langford and Soliai) deflected passes (McDaniel and others) and really played an excellent game. Soliai is really becoming a dominating NT in his 4th year and is having a breakout year. I guess Randy Mueller knew something about Soliai after all. McDaniel is playing vey very well lately and Langford had a brilliant game as well. A+

Secondary Sanchez finished the game with 17 of 44 (38 percent) for 216 yards and an INT (Nolan Carroll's first career INT). Sean Smith dropped at least 2 sure INTs, one of them a pick 6 and that's too bad . To take the next step he should really hang on to such opportunities. A-

Special teams We reaaly don't mention it as mush as we should but Brandon Feilds is an excellent punter, really solid, close to pro bowl caliber. He had a brilliant, unique, one of a kinf type of game, really a rare game you hardly ever see. He punted 10 times for an AVERAGE of 56 (!) yards a punt including a 69 yarder and a 68 yarder. He continually put Miami in better field position and this game was all about field position. There is no way of knowing how many points he saved for the Dolphins but I'm sure he did. As for the return game, when you don't score and the opposition doesn't score there are not a lot of returns, in today's special teams that's good. Fields deserves the grade all by himself this time. A+

Coaching The offense played badly and the play calling still looks like the team is playing not to lose rather than playing to win but a win in the Meadowlands is still huge. The defnse had a monster game, they really did. The team will not make the playoffs but not by much, you can always regret the missed opportunities. The Browns home game last week, the Steelers blown call and the 4 day short week to prepare third string QB Tyler Thigpen. B+




On the 1st of November, 1970, RB Mercury Morris, gained a Dolphin record of 302 combined yards. He ran 8 times for 89 yards, received 3 balls for 68 yards and returned 6 kicks for 145 yards.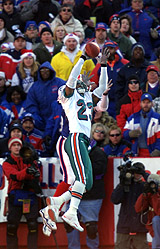 CB Patrick Surtain