Dolphins vs Pats road game Summary

9/18/16

Grading the Dolphins

QB Ryan Tannehill started awful. Just awful. He played very well in the second half which was almost garbage time.So the stats look god (32 of 45 for 389 yards, 2 TDs and 2 INTs) but the reality was it was all after Jimmy Garopolo's injury. He just could not get a first down in the first 25 minutes of the game. C-

RB Arian Foster tried to run before he was injured. Ajayi looked bad and lost a fumble. He just can not be trusted. Drake was OK (scored his first TD) but decided to take out a kick 5 yards deep and got to the 10, that's 15 yards of field position. The Dolphins don't have a running game and it showed. F

WR The WRs were OK. Landry (10 for 137) and Parker (8 for 106) went over 100 yards and even Jordan looked OK. The problem they can't seem to get separation. The chemistry between Parker and the QB is just not there yet. C+

OL The Dolphins O-line pass blocked OK but there was no where to run. This is not that good of a NE d-line. That's just mediocre. They were a big pary of the awful first half. D-

LB Kiko Alonso is OK. Jenkins and Misi aren't very good. The Jimmy G led offense carved the Dolphins. When Garopolo left in the 2nd (!) quarter he already had 3 TDs and over 200 yards. The Dolphins gave up more than 160 yards rushing. Ouch. F

DL The Dolphins have potential there but showed ZERO pressure and could not stop the run. That's basically what they need to do. They somehow got a chance to stop the Pats at the end and give Tannehill a chance to tie the game but could not stop the Pats running game when everyone knew they were going to run. F

Secondary Jimmy who ?? The Folphins made Garopolo look like an improved Brady. They probably added at least 20 million to his next contract. By the second quarter when he was injured he was 18 of 27 for 234 yards and 3 TDs. Even third stringer Brisset was 6 of 9 for 92 yards. Ouch. F

Special teams Does it really matter ?? Drake trying to take a kick from 5 deep and making it to the 10. Really ?? D-

Coaching The first half was perhaps the worst showing by the Dolphins in the last 16 and a half years (since the Jax playoff game, yes we used to play in those). I just can't recall a more complete disaster and I lived threw the 2007 1-15 team and some god awful teams. They were grossly out coached and were not prepared across the team. The Defense was awful throughout and the Offense had a terrible 1st half. F-!!!




On the 1st of November, 1970, RB Mercury Morris, gained a Dolphin record of 302 combined yards. He ran 8 times for 89 yards, received 3 balls for 68 yards and returned 6 kicks for 145 yards.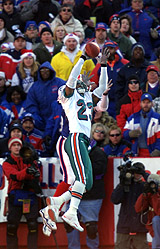 CB Patrick Surtain