Dolphins vs Patriots road game Summary

10/29/15

Grading the Dolphins

QB Ryan Tannehill did not have a good game. He was inaccurate and threw 2 costly INTs. Some will say it was the WRs fault for maybe running a wrong route but I don't agree because how come the Patriots WRs never run a wrong route ? (Brady has 20 TDs and 1 INT this season...). He racked up yards when the game was over to finish with 300 yards on 28 of 44 with 2 INTS. D

RB Miller only had 9 carries for 15 yards. He did catch 5 more balls but the running game was just ineffective. Gray ran twice for 1 yard. D-

WR Matthews caught 7 balls for 62 yards and Landry caught 6 balls for 71 yards. The WRs didn't make plays when it mattered and Miami's offese was just bad. D

OL The Dolphins O-line cou;d not run block and the pass blocking wasn't that much better. The offense was bad and that's on everyone. James was injured and it (along with Wake's injury) is much worse than the actual predictable loss, because the game next week is much more important. D

LB The Dolphins missed tackles and made mistakes you can not do against Brady. For example on the first drive the Pats were facing a third and 16 and missed tackles (Misi) led to a 17 yard gain on a screen pass. A couple plays later Gronk was in the endzone. This is not Houston or tennessee, you make mistakes against the Pats you lose. D-

DL Wake's injury (done for the year) is close to the biggest loss possible (Tannehill and Albert maybe are worse). He did have a sack before his injury (he finished the season with 7 sacks in 7 games) and the Dolphins will have to somehow recover. They as a group did not play very well and should have been better against a rookie/candian league O-line especially inside. D

Secondary Brady had 4 TDs and 350+ yards. Trying to stop Gronk with a safety is never a good idea. Jones is good but pass coverage is not his strong suit. D-

Special teams Franks missed a 63 yard attempt and Landry was OK. Darr was great punting 2 60+ yard punts including a 70 yard boot. Wehn your best player on the field is a the punter... B+

Coaching Well, the 2 game honeymoon is over. Losing at New England on a short week is not the end of the world but losing Wake and James could be. The Dolphins face a must week game in 10 days in Buffalo. Win - and they are back in it. Lose and the season is over and the coaching search begins. They did look unprepared. D




On the 1st of November, 1970, RB Mercury Morris, gained a Dolphin record of 302 combined yards. He ran 8 times for 89 yards, received 3 balls for 68 yards and returned 6 kicks for 145 yards.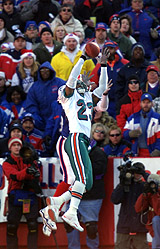 CB Patrick Surtain