Dolphins vs Patriots road game Summary

12/14/14

Grading the Dolphins

QBRyan Tannehill did OK but his WRs did not help him much. His stat line looks OK but that is because the entire 4th quarter was garbage time with prevent defense that pumps up the stats. He did throw the ball deep well but both Damian Williams and Hartline dropped long balls (Williams for a TD) and by the second half the team was in total collapse mode. The bottom line is this team again scored 13 points and you can't win scoring 13. His stat line was 29 of 47 for 346 yards, 1 TD and 2 INTsC+

RB Lamar Miller was OK at times, especially in the first half (16 for 47). But aside from his decent first half the Dolphins did not try to run in the second half for obvious reasons. Miller does have a lot of negative yardage plays that kill drives especially in Miami's short offense. Williams dropped a sure long ball, unacceptable on this level. D+

WR Wallace was great (5 for 104 yards and a TD - including a 50 yard pass), Landry (8 for 99 yards) and Clay (6 for 59) were solid too but Gibson (3 for 29) and Matthews (2 for 6) were horriblle. Droping countless catches and just tanking drives. C+

OL The Dolphins O-line without Albert is a mess. Dallas Thomas was exposed at the end and by the time this game was over the Pats had 4 sacks and Miami had only 76 yards running (none in the second half). That's not very good. Albert is missed. D

LB The Patriots scored 41 points and they really did not try for the last 10 minutes. Gronkowski had 3 catches for 98 yards and a TD. Putting Wheller on him is not a very good idea. D

DL ZERO pass rush. Jonas Gray (yes that RB the Dolphins cut in camp) ran for 62 yards on 11 carries when the game was already decided and everyone knew the Pats will run the ball... ouch. At least they only gave up 108 yards rushing... D-

Secondary Finnegan returned to the starting lineup and the secondary held very nicely in the first half. But, the second half was a different story as the Dolphins collapsed on defnse, giving up 27 points. Brady was 21 of 35 for 287 yards, 2 TDs and an INT. He did miss a few open WRs long. You get the feeling that is te always open deep Wallace was a Patriot he would have at least 1500 yards a season. D+

Special teams The Patriots blocked Miami's opening drive FG attempt and returned it for a TD. This probably ended the game right at the start. You can not give up such plays and win at Foxboro. Landry had a nice punt return and Sturgis was actually very good. The FG block trumps all. D-

Coaching The Dolphins are now in total collapse. If they don't win the next two games the coaching staff will be fired and they will not win scoring 13 points a game - even against the Jets. I am not sure winning the final two games will help but losing them will put and end to the mystery. The Pats were by far the better team Sunday. D




On the 1st of November, 1970, RB Mercury Morris, gained a Dolphin record of 302 combined yards. He ran 8 times for 89 yards, received 3 balls for 68 yards and returned 6 kicks for 145 yards.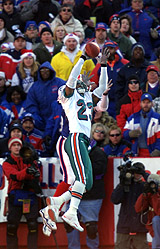 CB Patrick Surtain