Dolphins vs Patriots road game Summary

12/30/12

Grading the Dolphins

QB Tannehill looked awful but he wasnb't helped by drops, 7 sacks and the fact his WRs just can not any, ANY, separation. Every throw needs to be a perfect throw and that's never going to happen no matter who the QB is. C-

RB Bush needed 40 yards to get to 1000 on the season. He got 26 and 18 of them were on the last play of the game. He also fumbled at the New England 3. Enough said. D-

WR Harline played OK, but other than him they all played awful. Binns sropped a sure TD and it wasn't his only drop. Matthews wasn't any better and Moore was invisible. There is ZERO separation and most of the 7 sacks were coverege sacks. First priority in the off season should be getting players that can get SOME, at least SOME separation. F

OL The Dolphins O-line gave up 7 sacks and countless hurries and hits on Tannehill. The run blocking was just as awful. Take away the 18 yard run on the lst play of the game and Bush rushed for a grand total of 8 yards all day and it wasn't all his fault to say the least. F

LB Stevan Ridley ran at will against the Dolphins. That's not all on them but some is. The Pats' TE were solid but that's really to be expected. Burnett completed his first back to back 100 tackle seasons and Dansby had more than 100 solo tackles on the season. Misi played but actually never did anything to notice. C

DL This is the team's strongest unit but they did not play like it. The run defense was bad and there was ZERO pressure on Brady. There is just one simple way to beat the Pats. It's the only way and it is effective - Pressure Brady. The Giants did it in their two Superbowls and it worked. Miami did it in past games and it worked. There was no pass rush this time and no run defense most of the game. D

Secondary Patterson started, Smith completed his worst season before his free agency. He did not have any INTs in 15 of the 16 games he played this season and he is one of the most targeted CB - ouch. D

Special teams An average game for the special teams. Kaeding missed a kick because of the weather but blaming the special teams would be way too much. C-

Coaching Just an awful game against a much better team. They just were outplayed by the Patriots. drops, turnovers, fumbles, missed FG all the ingredients needed to lose a game in the NFL to any opponet, let alone the Patriots playing for a first week playoff bye. D




On the 1st of November, 1970, RB Mercury Morris, gained a Dolphin record of 302 combined yards. He ran 8 times for 89 yards, received 3 balls for 68 yards and returned 6 kicks for 145 yards.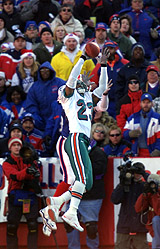 CB Patrick Surtain