Dolphins vs Patriots game Summary

1/2/11

Grading the Dolphins

QB Chad Henne was 6 og 16 for 71 yards and his now routine INT. He was benched and Thigpen was 10 of 21 for 169 yards and a TD. Not much better. Some of the throws were way off and neither QB looked better or equal to Pats' backup QB Hoyer. The 1980s are over - you can not win in today's NFL without a real QB and if Miami doesn't get quality play from the position 7-9 is the best record they'll have. The Dolphins will try in 2011 to find yet another heir to Marino in year number 11 for the never ending search for a real QB. D+

RB The leading rusher ? Tyler Thigpen with 21 rushing yards. Ronnie and Ricky had 6 carries each for a grand total of 19 yards... D-

WR The Dolphinjs have 2 WRs - Brandon Marshall (5 for 97 yards) and Bess. Marshall finished the season with over 1000 yards. He is, without a doubt, a great WR. Bess is a quality slot but after that there is no speedster to strech the field and with the QB play the results aren't very good. Marshall finished the year with 200 yards on 15 catches in the last 2 games. B-

OL The run blocking was not very good and the QBs were sacked regularly. LOng will come back healthier next year, other than that they are all replaceable and that's the way they played. D

LB Another sackless game. They didn't help the run game. Wake did not have a sack in the last 3 games. They are not the same withut the injured Dansby. D

DL Soliali was called for offsides twice, he had better days, Starks and Langford were quiet to say the least. Zero sacks and the Patriots ran all over the place. D

Secondary They could not cover the TEs and they were beaten, including deep, by some QB named Hoyer noone ever heard of. This wasn't a good game for the secondary even when Brady was done for the day. D-

Special teams They gave up a 94 yard punt return for a TD. Ninety Four ! This season they gave up a kickoff return, punt return, block FG return for TDs - and that's only in the two Patriots games !! by the way, another FG miss. F

Coaching Awful offense as usual. The Dolphins were dominated by the superior Pats and then by their backups. A bad ending to a bad losing season. Will the coaching staff survive the next few days ? D




On the 1st of November, 1970, RB Mercury Morris, gained a Dolphin record of 302 combined yards. He ran 8 times for 89 yards, received 3 balls for 68 yards and returned 6 kicks for 145 yards.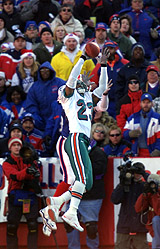 CB Patrick Surtain