Dolphins vs Bills road game Summary

12/24/16

Grading the Dolphins

QB Matt Moore was horrible in the first half. He threw an INT up in the air at the end of the half when Miami was in FG range. But he somehow turned it around in the second half. His stats were helped by Parker taking a short crossing route and making it a 56 yard TD and Williams running for 44 on a catch of just a few. He finished the game with 16 of 30 for 233 yards 2 TDs and 1 INT. C

RB Wow! Jay Ajayi loves the Bills. The Dolphins running game was just great. Ajayi ran for 206 (!) yards on 32 carries (and a TD). His 3rd 200 yard game of the year (4th player to do so in NFL history). He won the game on a 57 yard run in OT (shaking a tackle at the line). Drake made a 45 yard TD after almost being caught in the backfield and reversing field... Dolphins had 261 yards rushing. A+

WR A quiet game for the WRs. Parker had a huge 56 yard TD on a short crossing route where he escaped a tackle. Stills had his 8th TD of the season in a contract year. Landry looked gassed and did not play well. Only 3 recpetions for 29 yards and a drop. C

OL 261 yards rushing and zero sacks. Moore usually had plenty of time to throw. They played well. Very well. A

LB The Dolphins LB are a liability and that's nothing new. Hewiit had a good play catching Reggie Bush for a 6 yard loss (the Bills missed the FG because of that) but other than that the Bills ran wilf and the middle of the field was wide open for Charles Clay. D-

DL Suh had a decent game (tipped the 3rd down throw in OT that eventually led to a Bills missed FG). Wake had another sack (11.5 on year) and Branch was OK at times but the Bills rushed for 272 yards and had over 600 total yards... D+

SecondaryTyrod Taylor looked like a probowler. 26 of 39 for 329 yardsa nd 3 TDs ! They looked awful. Maybe Maxwell returns next week and they play better because playing like this against Tom Bradt... Ouch... D-

Special teams Wow! Just when you think there is no chance... Andrew Franks saved the season for the Dolphins. No doubt. With the clock winding down (Damien Williams should have stepped out of bounds!) he kicked a 55 yarder to send the game to OT after he missed for 46... Then the game winner form 27. He saved the day. Grant (41) and Drake (39) had nice kick returns. A

Coaching They got a little lucky but luck counts... I thought throwing deep at the end of the half instead of going for FG was too aggresive. I also did not understand the throws at the begining of OT when Buffalo could not the run. But, they won - again. 9 of the last 10. That's just unreal. They are one win or one Denver loss away from the playoffs and have double digit wins. With all the injuries (Jones, Pouncey, Tannehill...) and thin roster, just amazing coaching. The Dolphins finally found their guy. A




On the 1st of November, 1970, RB Mercury Morris, gained a Dolphin record of 302 combined yards. He ran 8 times for 89 yards, received 3 balls for 68 yards and returned 6 kicks for 145 yards.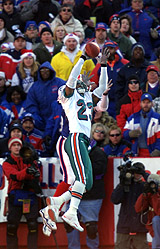 CB Patrick Surtain