Dolphins vs Bills road game Summary

11/8/15

Grading the Dolphins

QB Ryan Tannehill was OK. His numbers look OK (27 of 36 for 309 yards) but most of them were dink and dunk. He missed the important throws (to the endzone to close the half, on 3rd down) or made mistakes in critical situations (sack, strip from the Bills 40). He was not the reason Miami lost. You can not win scoring 17 points and that's the bottom line. C-

RB Miller only had 12 carries (44 yards and 2 TDs) but had a huge day catching (7 for 97 yards). Ajayi also played well in his debut (5 for 41). It was an OK performance. B

WR Landry led the way with 11 short catches (only 69 yards), Matthews caught only 4 balls (for 54) and Stills is the only big play WR. Jennings dropped crucial passes. C-

OL The Dolphins O-line played well in the first half but could not keep Ryan upright in the second expecailly Jason Fox. Ryan is a solid passer when he has time but they seem to always buckle under pressure at the end. D+

LB The Dolphins missed tackles and made mistakes. They gave up 266 yards rushing on 36 attempts (including 3 kneel downs). That's over 7 yards a run !! F

DL Suh gets a B all the rest an F. 266 yards rushing ???? their QB was 11 of 12 ?? Suh was held on the long TD and should have had a sack a play before, awful officiating but let's not pretend the officiating alone killed the Dolphins. D-

Secondary It's hard when you can not stop the run. But having Tyrod Taylor go 11 of 12 for 181 yards and a long TD and a 63 yarder. That's way too much. Grimes looked lost. F

Special teams Franks was awful on kickoffs but made a 48 yarder. They were awful on kickoff return. How difficult is it to take a knee ? D-

Coaching The clock management at the end of the half was inexcusable. Miller ran to the 1 with 20 seconds to go and somehow Miami did not take their TO until 2 seconds were left ?? Ah ?? I don't mind going for a TD instead of taking the sure FG but the clock management was just awful. The team collapsed in the second half. Just awful run defense and bad angles in the secondary. Suh can not play alone. As good as he is, he really can't play alone. F




On the 1st of November, 1970, RB Mercury Morris, gained a Dolphin record of 302 combined yards. He ran 8 times for 89 yards, received 3 balls for 68 yards and returned 6 kicks for 145 yards.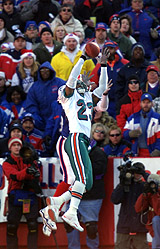 CB Patrick Surtain