Dolphins vs Bills game Summary

9/14/14

Grading the Dolphins

QBRyan Tannehill was not very accurate missing ipen WRs and sometimes connecting with WRs but the ball placement revented the WRs to run after the catch. He did suffer from multiple drops including by Hartline, Miller and Matthews of potential long TDs. He finished 31 of 49 for 241 yards with 1 TD and 1 INT D+

RB WOW ! Knowshon Moreno was injured on his first throw. Miller dropped a would be long TD and was not very effective. Damien Williams was responsible for the blocked punt but ran the ball decently. Orleans Darkwa caught his first NFL pass. Just a bad game all around. This unit is not the same without Moreno. D

WR A horrible game for everyone not named Mike Wallace. Hartline dropped a long TD. Matthews dropped a TD. Clay dropped some balls and caught only short passes and Dion Sims just can not catch and teams will soon realize that. Awful game. Wallace saves this grade D

OL The Dolphins could not run and Tannehill especially in the first half was constantly under pressure. The Bills just dominated the line, there is not nice way to put it. F

LB Buffalo ran all over them and it looked at times that the hole middle of the field was wide open for the Bills. Manuel wasn't challenged at all. D+

DL Cam Wake could not pressure the QB while going against a rookie late round selectiona and TE help ? Manuel was under no pressure and the Bills ran the ball freeley. D-

Secondary Manuel is no Tom Brady but at times the Bills WRs looked wide open. Sammy Watkins playing in his second ever career game went for 117 yards on 8 catches and a TD. D-

Special teams One of the worst performances in recent memory. They gave up 13 points but it could have been 21. A blocked punt (RB Williams missed his block), a 102 yards TD on a kickoff given to CJ Spiller and a muffed punt by Jarvis Landry deep in Miami territory ??!!! All in the same game ?? That's enough miscues for a year. F- !!!

Coaching Philbin can defend his god awful decision at the end of the half all he wants, it was still an awful mistake. He just did not even try to score at the end of the half and was happy to go to the locker room trailing 9-0. Even a FG would have been a great help. F




On the 1st of November, 1970, RB Mercury Morris, gained a Dolphin record of 302 combined yards. He ran 8 times for 89 yards, received 3 balls for 68 yards and returned 6 kicks for 145 yards.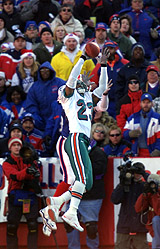 CB Patrick Surtain