Dolphins vs Bills road game Summary

9/12/10

Grading the Dolphins

QB Henne played a mediocre game. He wasn't needed in order to win the game and that was fine. He did throw a lot to newly acquired pro bowl WR Brandon Marshall which clearly upgrades Henne's weapons in the passing game. He finished 21 of 34 for 182 yards with no TDs or INTs. He did underthrow his only deep pass but Marshall should have caught it anyway. C+

RB Ronnie and Ricky played a solid game. They didn't break any run bigger than 17 yards but almost always got positive yardage. Brown finished with 13 rushes for 65 yards and a TD and Ricky 18 for 62. 132 yards all together for the Dolphins rushing the ball. B

WR Brandon Marshall is clearly the best Dolphin WR since Irving Fryar. He had a nice debut, was a target on many (too many?) Henne passes and finished the game leading the team with 8 catches for 53 yards. He did drop a slightly underthrown long ball from Henne but he blocked and opened the middle of the field for Fasano (3 for 46) and Bess (6 for 51). Hartline started but did not have a single catch. B-

OL They gave up 2 sacks but in general Henne had a lot of time to throw. The running game looked solid especially in the first level. A nice game all around but the Vikings front 7 will be much tougher next week. B+

LB It took Karlos Dansby 3 plays to show what he can do when he leveled Bills QB Edwards for a crushing sack. He has big play ability and it showed. Dobbins started for Crowder and was OK. Wake looks got pass rushing collecting his first sack of the year. Misi also had a sack. B+

DL The Bills could not run the ball. Buffalo has a bad QB and below average WRs but there is nothing wrong with their running backs and the Dolphins dominated in larger part due to the front 7 including the D-line. Starks had a some nice pressures up the middle and Odrick had a tackle for a loss. B+

Secondary Sean Smith did not play but Jason Allen looked solid. Was it just the bad Bills WRs, only time will tell. Bell led the way as expected with 8 tackles and Clemmons looked OK as well. B+

Special teams They just did not play very well. The punting was just bad - Fields had only a 34 yard average ojn 7 punts. He had a nice punt at the end but the first 6 were just awful. Carpenter missed a FG. The Dolphins longest return (2 kicks and 2 punts) was 15 yards... D-

Coaching It looked scary at the end and the Dolphins did need to finish the first half up by 17 according to the way they played. It looked at times that they were playing for FGs and not TDs (I know Brown rushed for 11 yards on 3rd and 10 but they did really think he will convert when they called the play or were they thinking decent FG ?) and it was odd at times but the bottom line is that the team won an important division game on the road and started strong going into Minnesota. B




On the 1st of November, 1970, RB Mercury Morris, gained a Dolphin record of 302 combined yards. He ran 8 times for 89 yards, received 3 balls for 68 yards and returned 6 kicks for 145 yards.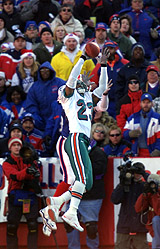 CB Patrick Surtain