dolphinsinfo.com 1999 Season Summary
WAHOOO, what a season. It started with the JJ one day resignation and it ended with his final resignation and a huge lose in the divisional playoffs just like the year before. JJ's 3 year and then 4 year plan is over and a superbowl appearence isn't even in sight. (altough I wouldn't have put my money on the Rams at the begining of the year, so you're always close). The Dolphins are close to where they were 4 years ago. In Shula's last 4 years the Dolphins actually had a better record then in Jimmy's 4 years. Miami is in better shape cap-wise, but that's not the objective of a football team, they should hire a good accountant. True, they have a better potential. But the question is what to do with that cap space.

After JJ's one day resignation came the free agency period and the draft. Miami needed a speedy reciever and it took a chance with Tony Martin. It payed off because he had a reasonably good season. 1000 yards for a reciever isn't a yearly routine in Miami. The signing of Rich Owens was a big addition too because Taylor had a bad year and Owens really helped.
The draft was another thing. Miami moved out of the first round and with their 2 2nd rounders drafted RB JJ Johnson and FB Konrad. Before the draft Konrad was appearing as a 1st round talent, so Miami got a good bargain on him. I think because of his performance in the second part of the season he isn't a first round player. As for JJ Johnson, I disagree with Wannstedt. Wannstedt thinks he is a capable back that Miami could use next year. I hope he is bluffing. JJ Johnson was hurt almost all season long. He did run hard but his average per carry was pathetic. A 3.4 yard per carry is nothing to brag about, but we'll go back to that later.

I have graded the main players at each position the others weren't that dominant.
Grading the Dolphins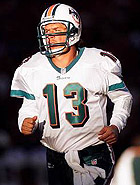 QB The QB position was the position that attracted a lot of heat during the season. I'll say right from the bat, I don't think that the QB play was a problem this season, both QBs didn't have a stellar year, and that's an understatement, but to blame the QB is really a strech. The Dolphins pathetic offense wasn't the QB's fault. Miami fans have been spoiled. For years, Dolfans have been used to a QB that without any help from a running game and an O-line has put up big numbers. Miami didn't have a perfect offense for years, Marino's brilliance has covered for that.
I don't think you have to have a good QB to get to the Superbowl. All S.B champions had a great defense and a great RB. S.F's Craig and Watters and their brilliant defense were overlooked. Denver's Davis, The Giants, Bears and Redskins defense were unstoppable. On the other hand teams won a superbowl with Mark Rypien, Jeff Hostetler and Doug Williams. I think Marino is still capable of winning a S.B, but Miami is still lacking players for a S.B run.
Now to get personal :
Dan Marino - Dan had his worst year of his career. For the first time in his life he threw more INTs than TDs and his rating was under 70 for the first time also. But if we look at it closely, Without the Dallas game he had the same number of INTs and TDs and his rating was over 73. He was elected as player of the week twice in his 10 games. He had some brilliant games - Indy twice and Denver. He was inconsistent but I think the injury was a big part of that. Dan is obviously way past his prime but his prime was best ever so you can get down from that and still be a capable QB int his league. He should get a C but without a running game and no protection from the pathetic O-Line he enjoys the benefit of the doubt. B-
Damon Huard - Well, we didn't expect anything form him and that is why he surprised us. But, I hope Miami is not planning on going with him as their starter next year because a backup for a few games is one thing and being a starter is a different thing. He played very safetly, He almost always threw the short passes never went for the kill (Martin's numbers were down with Huard). The opponets will learn that and know how to stop him. He was 4-1 as a starter but if you look at these games closely, Miami's defense gave up an average of 5 points a game in those games. Really, with that kind of defense it's not that hard to win. Even Shaun King can do it. Huard will be probably better next year and will take more shots downfield, but to go only with him next year if Dan leaves... I don't think it's a good idea. B-
WR The WRs had a mixed season. In some games they played very well, but in other games they dropped too many passes and looked like a below average group, which they are.
Tony Martin - He had a decent season but he also disappeared in some games completely, He caught 67 balls for 1037 yards and I guess his numbers would have been higher if Marino had stayed healthy. B+
O.J Mcduffie - Bad year, he was hurt a lot and that didn't help. With a real WR (Martin) coming to the team he assumed the role that he really is, a great possesion recievr with a close to zero capability for big plays. His 90 catch season in 98 was way too much, that was a result of Dan throwing his way too much and a lack of a good opposite reciever. He went from 90 catches in 98 to 43 catches this year and from 1050 yards to 516 yards this season. C-
Oronde Gadsden - He had a good year, He was the 3rd reciever most of the time, he managed to catch 48 balls just like last year but in 98 he was a starter most of the year. He had 803 yards (up from 713 in 98) and 6 TDs (down from 7 in 98). He proved to be a weapon in the redzone, altough Miami did try to force balls at him (Dallas first INT). He lacks speed but he makes big plays and he is a fine 3rd WR. He was hurt part of the season and it didn't help. I'm sure he will be fine next year. B+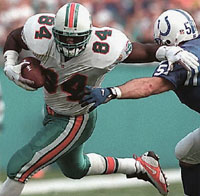 Troy Drayton - He is a good football player and that is why I graded him here and not with the O-Line.
He can be a decent reciever and he can block pretty well. I do think that Miami must give him the ball more because he has decent hands and can gain yards after the catch. Coach Wannstedt said in his press conference that the team will use the TE more, but it's something that is said by the coaches every year so we'll just have to wait and see. His numbers were the same as in 98, but he caught only 1 TD and that's not much for a big TE. B
RB Miami's running game was bad. Even in Dolphin terms it was pretty bad. Both Collins and JJ Johnson weren't that good, and there was the Pritchett playing RB fiasco. Autry Denson isn't going to put Walter Payton's record in any danger also. They had a dissappointing seson. Their average yards per gain was pathetic, 3.2 or 3.4 for any RB is just not good. I can't remember when Miami had a 4.0 RB, Heck I can't remember a 3.8-3.9 RB either. (Actually the last 3.8 RB was the catching RB Terry Kirby in the Shula days...and to think Jimmy Johnson talked about establishing the run...).
JJ Johnson - He was hurt most of the year and when he played he had a few good games but a 3.4 yards per carry is nothing to write home about. When healthy he is a decent RB, nothing more nothing less. I hope that his second year is better, like it usually is for rookies. Just staying healthy will improvre his game. I don't see him taking a handoff and going the distance, he's a power runner and it shows, if you see him breaking a big run remember it, it's not something we'll see very often C-
Cecil Collins - He is not a part of the team and will not be one either, but he was the starter the first part of the season. I think he was better than JJJ although he had a 3.2 average. He wasn't a risk because he only costed a 5th rounder. Instead the Dolphins would have probably taken a LB or an OL that would have never made it past the second cut in training camp so I still think it wasn't a bad move. D
Stanley Pritchett - He had his best year since his rookie year. He lost his starting job but won it back. He caught 43 balls, that's pretty good (OJ Mcduffie also caught 43). He also scored 4 TDs (all via pass). He had to play RB because of the injuries and he looked like all other Dolphin RBs (actually he had a 3.4 yard per carry avearge like JJJ and Karim and better than Collins'). He is an unrestricted free agent. Reports said the Dolphins didn't plan to resign him with Konrad on board but with Konrad's performance and Pritchett's play I think they should resign him. B-
Rob Konrad - It started perfectly, starting in season opener against the superbowl champs Dener Broncos and catching a TD pass. Taking the starting job away from Pritchett. But in mid season Konrad disappeared. He was awful he couldn't hang on to simple passes, dropping almost everything thrown his way. He pumped up his stats in the meaningless season finale. Really he was a disappointment considering how he started the season. D+
Autry Denson - Arrived late, showed he can run OK, but had an awful game vs Jacksonville, One of the Dolphins that should go to that NFL rules class. We didn't expect anything and indeed we didn't get anything D+
OL (Webb, Dixon, Ruddy, Gogan, Donnaley, Brown and Smith) By now you probably know what I think of that group. Webb and Ruddy are free agents, I think we are going to see a different group next year. To make it simple, the O-line is supposed to do 2 things run block and pass block.
As for the run blocking, they are obviously not good enough. Noone in that group is a guy that can dominate, even not for one game. Over the past few years Miami has tried lots of different RBs. They weren't very good, but they were not all that bad. Lets be serious, no running back over 3.5 yards per carry. And the story was the same last year.
The second element is the pass blocking. Well as I said all along, the cat is out of the bag. True, Damon Huard is a very sackable QB, but lets get real those guys were living off Dan Marino's quick release because you look at Dan's sack numbers and say "good OL". The truth is Dan has the quickest release in NFL history, there is no doubt about that, he is the only reason for years of low sacks numbers. When Huard was taking snaps he was constantly sacked (9 times vs New England). He was sacked almost every game about 3-4 times. This O-line is just not very good. As I said before you need a good running game to get to the Superbowl and it starts with the O-line. Miami's O-line isn't very good. JJ had that theory of not drafting OL early, well I guess he was wrong. A change is needed. Everybody saw Buffalo's LB (Norhthern) sacking-fumbling-returning for TD in the monday night game and JJ had thr nerve to blaime Marino (came from blind side), he wasn't even touched. And the Brackens sack, Webb had some pathetic efforts this year. The others weren't better, on the contrary some of them were even worse. Dixon was the least worse and he was cheap too. D-
DL I have some mixed feelings about this group. They weren't as good as in 1998, but then again the entire defense wasn't as good. They didn't put too much pressure on the QBs (exept in the Seattle game) and teams ran straight at them with some sort of success. Wannstedt said this group is a concern and it needs work. I agree but there are a lot of positions that are far and I mean FAR worse.
Darryl Gardener - Good year for him he really dominated, he had a career best 5 sacks, I really liked his play, I think he is underrated. He must continue to improve in passing situations although in obviouds passing downs he is not always in there. A-
Tim Bowens - He was the main DT and in the pro bowl last year, This year he was the guy next to Gardener, had 1.5 sacks and should do better in that category. He is a good DT. B+
Kenny Mixon - Dissappointing season, was good as a rookie in running situations. He got hurt in a bike accident, lost his starting job to Owens. I thought he would be better. C-
Trace Armstrong - He is a good pass rush specialist, He had 3 sacks in the Seattle playoff game (was close to 4) but his regular season sacks were down from 10.5 to 7.5. He is the oldest player in the line. He was brilliat in the Seattle game and was very constructive in the playoff win B
Rich Owens - Best free agent acquisition, lead the line in tackles, lead the team in sacks with 8.5, best DE on the team, I really really like that guy, he was running all over the field this year and without any hype, no attention on him from the media. Best surprise of the year A
Jason Taylor - He went down from 9 sacks in 98 to 2.5 this year. T-w-o and a h-a-l-f for a DE is ridicoulus. He was getting all the media attention for no reason, he is a so called super star without having a double digit sack season in his career. (heck he didn't even make it to 3 sacks this year). I honestly think that he is the most overrated player in Miami. And I mean in years. Owens was playing on a million levels higher then him. He looked like the middle round draft choice that he was. F
Lorenzo Bromell - Another disappointment, went from 8 sacks as a rookie to 5 this year and dissappeared at the end. But I think he will bounce back next year. 5 sacks for a guy playing in passing situations from the inside is not that bad but I expected at least the same production as in 98 D+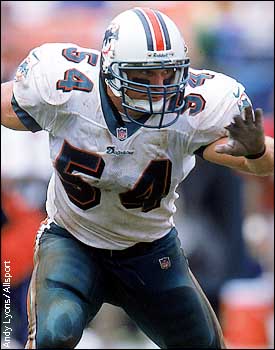 LB I am sorry to have to disappoint you, but I don't think they were that good. Teams ran pretty good against the Dolphins this year. The LBs didn't produce many sacks (1 for all 3 starters ) and a few TEs were having field days agianst the Dolphin LBs. Dixon Edwards was brought in to compete with Rogers but had to retire before the season began with health problems. There was a good reason he was brought in.
Zach Thomas - He was his usuall self, he was named to the pro bowl as a backup (and he should have because Baltimore's Ray Lewis is better). Zach had only one sack all season long (2 in 98) and looking at other LBs around the league he must get better in that category in the chances he has coming in the blitz. He was also stopped by big OL that studied his play. He did have is usuall million tackle year and he made some brilliant plays. (1 INT down from 3 and 2 TDs in 98) A
Robert Jones - Quitely, he had a disappointing season with Z-E-R-O sacks and Z-E-R-O INTs. He had 5 sacks 2 INTs and a TD in 98. Must get better or Miami is going to start lookig elsewere. He did have a bunch of tackles like Miami's LBs should have in that scheme. C-
Derrick Rogers - He was invisible for most part of the year I don't remember him making any huge play that jumps to mind right now. He got lucky when Edwards retired or else his starting position was in jeopardy. Had 1 INT and no sacks in 99. In 98 he had 2.5 sacks. I will be surprised if the Dolphins won't get a LB to compete with Rogers. D
Secondary They had a very inconsistent year. They practicly lost the Jets home game and the Indy home game with big plays and bad plays at the end. They also had some nice games, shuting down Terry Glenn for example. Some QBs really suffered from the Miami secondary. But there were also problems, Awful tackeling at times and big plays given up.
Sam Madison - Madison will start at the probowl. He shared the NFL lead with 7 INTs. He returned one for a TD. He had 3 INTs in the Tennessee game (I guess he is not Steve Mcnair's favorite guy). He had a good season but he was at times burnt badly like in the Bills game agianst Eric Moulds when he bought into the play action fake. Any corner makes mistakes but his upside was huge taking recievrs out of the game completely. A
Terrel Buckley - He lost his starting job to Surtain. He's a free agent and probably won't return. He did have some nice plays (the INT in the Seattle game) but he was burnt deep constantly. That lost games for Miami like the Cowboys game and the Jets game. He seemed to play worse after his benching. He is still a fine corner he is going to start elsewere next season and do fine. He went down from 8 INTs to only 3 this season. C-
Patrick Surtain - He won the starting job from T-Buck but he also allowed big plays (Jets, Seahawks games). I think that the jury is still out on Surtain. He is getting better and he will probably be even better next year. He had 2 INTs (same as 98) and 2 sacks. C+
Calvin Jackson - Started most of the year and did a decent job. He did cost Miami the game in that Indy game but he was injured and noone was available to play instead. He was OK. Miami will have to make a decision on him and Wooden for next year, they are both free agents. B-
Shawn Wooden - He was injured and lost his job to Jackson. But he practicly split time with Jackson. He was OK, nothing fancy just OK B-
Brock Marion - He is always critisized for the secondary play, but I don't think it's his fault. He can tackle pretty well. He is not the superstar type player but I think he had a solid year. B
Special teams
Oildo Mare - He was brilliant (with thanks to the bad Miami redzone offense). He only had one bad game and he was automatic inside the 40. He was pretty good in the long 50+ distance too. He did misfire a crucial FG in the Jets game but it happens. He hooked on a 50+ FG in the Seattle game that looked to be good enough to go in from 60. Truly, a pro bowl performance. A+
Tom Hutton - He was signed because the Bartholemew injury and was mostly erratic mixing big days with awful punts. I don't see him coming back next year. C-
Nate Jacquet - He had a very good year. I wish he would stay as a guy who returns punts and not as a "punt returner" because a returner tends to try to do too much and go side ways. B+
Brock Marion - He had an OK season I thought he was overated because of the big return early on, that gave him a good ranking league wise. He looked slow for a returner but he did have some pretty nice returns at important stages of the year B
Coverage unit - Everybody thinks they are a very good unit and the Dolphins rank high in opponets field position category, I think it is a little misleading because they gave up a return for a TD this year (and it has become an anuual thing), they also gave up a return for a TD in the playoff game and that almost cost Miami the game. It shouldn't happen, there is no excuse. none whatsoever. C-
Coaching As I said all year long coaching is measured in results and in results only. Miami wasn't a bad team at all this year. They did get to the final 8 and saying they got a good draw in the playoffs is just plain stupid. Someone saying they got a good draw is just someone who doesn't know anything about football. True, The Seahwaks were the worst playoff team in the AFC and Miami got lucky that they got to play them. BUT, the only reson they got to the 6th seed is because their division was so tough. I mean in the NFC 8-8 teams were playoff teams, AFC westeren division winner had 9 wins. In the AFC east 8 wins was good for Last place... Miami had a very hard schedule (by the way, it gets harder next year). They didn't get a comfy schedule like the AFC central, west or the NFC east or west.
Miami played a tough schedule and made it to the playoffs but what bothers me is that the team made no improvement whatsoever, they got beat badly in the divisional round just like last year and that is all that matters. That so called ridicoulus QB contreversey didn't help either because it's not like the Dolphins had a pro bowl type of QB on the bench. D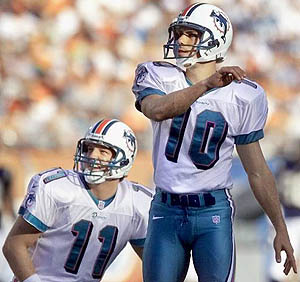 MVP
It came down to 4 candidates. Zach Thomas had a good year but it wasn't that extra ordinary. Madison was briliant at times, but take away the Titans game and you are left with a 4 INT season after having 8 in 1998. Rich Owens was dominant but a double digit sack total would have improved his chances signifiacally.
So I had no other choice but to go with a strange pick that says something about the Dolphin offense. Olindo Mare broke the NFL single season record for most FGs (39) and broke the franchise record for most FGs in a game (6) and most cosecutive FGs made (19), he Truly deserves the award more than anybody else.