dolphinsinfo.com 2009 Season Summary
Grading the Dolphins
The Dolphins were coming off a 11-5 season that had them going to the playoffs. They entered the 2009 season as division champions and with playoff expectations. That did not happen and they finished the year under .500. Most people beleived the Dolphins will be a 8-8 to 9-7 team in 2009 and they were not far off. The injuries came early and often to the 2009 Dolphins and they really were the trigger to the late season decline and the 7-9 finish. The schedule did not help either. The Fins were exposed to what they really are at this point, a team in the middle of a rebuilding process that went backwards (record-wise) in year 2 of the Parcells/Ireland/Sparano regime. Most of it was because of injuries to key players. They lost their starting QB AND their starting RB to season ending injuries early. The also lost their starting CB to injury and played most of the season with two rookie CB. We saw a few bad things that need to be corrected in 2010 for example, the pass defense was just horrible, even though Yeremiah Bell made the pro bowl the other safety position was a mess as Gibril Wilson did not play like the big free agent acquisition he was. The ILB weren't that great either making the middle of the field exposed to countless big game by opposing TEs. The rookie CBs did show promise bu at times they played like rookies. The Dolphins need to fix this problem in 2010, starting with the play of the ILBs .Ayodele showed he was not a starting ILB anymore and Crowder wasn't that much better either. The team did see a sfe bright spots, the team had to play Chad Henne because of the season ending injury to Pennington and he had his off plays, especially in the fourth quarter, but he showed he is. without a doubt, Miami's future at QB and for most parts played well. A case can be made that he played better than Pennington even with the INTs. He certainly has arm strength... Ricky Williams went over 1100 yards at age 32 which is rare, to say the least. The rookie CBs showed promise as Vontae Davis led the team with 4 INTs. Cameron Wake got on the field for limited time but he showed he can rush the passer. Rookie 4th round WR Brian Hartline was a surprise solid contributor as opposed to rookie 3rd round (bust?) Patrick Turner. The Pat White experiment did not turn out that good but he's still young. Ginn did not have the breakout year we all hoped for but he did return 2 kickoffs for TDs on the Jets expense (which is like bringing back 4...)
Now let's get personal...
QB Chad Pennington - Pennington was hurt early and did not return. He will probably serve as a very solid back up next year if he resigns with the Dolphins. Grade - No Grade Possible
QB Chad Henne - He took over the starting position when Pennington was hurt to finish 274 of 451 for 2878 yards, 12 TDs and 14 INTs for a 75.2 rating. The INTs were a problem, especially in the fourth quarter and the TD amount is low but that's because the team had a good running game. He could have easily topped 3300 yards if he played a full season which is not bad for a first time starter. He looks like the future. d. Grade - B-
WR The Dolphins obviously have 3 number two but no number one WR. Ginn just regressed and no one thinks he can be a number one anymore. He finished the season with only 38 receptions for 454 yards and 1 receiving TD. ONE. The big contributor was 2nd year slot receiver Davone Bess that quietly had a very good year for a slot WR. He caught 76 balls which is a lot but he can not go deep. His 76 catches turned to only 758 yards...
Overall Grade - D+
WR Ted Ginn - Numbers 38 for 454 (down from 790 yards in 2008), 1 TD. At some point he lost his starting position and he was mainly a decoy... The fact that strong armed QB Henne played did not help as many expected it would. He had more TDs in the return game (2) than he did as a WR...
Grade - D
WR Davone Bess - Numbers 76 (up from 54 in 2008) for 758 yards (up from 554 yards in 2008), 2 TDs. Bess was, by far, the best WR in Miami. A huge steal as an undrafted rookie in 2008. He showed he can play in this league and be a great slot WR that can move the chains and run after the catch. The lack of TDs and long gaines hurt though.
Grade - B+
WR Greg Camarillo - Numbers 50 (down from 55 in 2008) for 552 yards (down from 613 in 2008), 0 TD. A regular season for Camarillo, one of Miami's number two WRs maybe a three.
Grade - C
WR Brian Hartline - Numbers 31 for 506 yards and team leading 3 TDs. A very nice rookie year from a player no one expected much as a 4th round WR. He wasn't even the first WR Miami selected going a round after WR Patrick Turner that couldn;t get on the field. He has great RAC talent and he looked as a nice number two typr WR. I think he'll start as the number two in 2010 or at least get on the field more in 2010 than he did in 2009.
Grade - B
TE Anthony Fasano - Numbers 31 (down from 34) for 369 (down from 454) and only 2 TDs(down from 7 TDs in 2008). A dissapointinf season for Fasano. Maybe he's not the answer at TE after all. I think he'll be back at 2010 but if the Dolphins see an upgrade he could lose his starting position.
Grade - D+
RB They had a million injuries and it hurt them badly. Both Patrick Cobbs and Ronnie Brown were lost for the season early in the year. Brown was having a huge year when he was injured. He scored 8 rushing TD in just 8 games !and ran for 648 yards on 147 carries. His loss really hurt the team even though Ricky Williams had a brilliant year as his replacement. The Ronnie Brown injury pretty much ended the wildcat attack as well. The Dolphins finished 4th in the NFL in rushing gaining 139.4 yards per game. Overall Grade - A-
RB Ronnie Brown - He had a great season running and executing the wildcat until he got hurt (again) 147 for 648 yards and 8 TDs (EIGHT) in only half a season is very good but it doesn't help if he is injured.
Grade - B
RB Ricky Williams - He is still a very good runner even at his age - 32. He rushed 241 times for 1,121 yards (4.7 yards) and 11 TDs (ELEVEN) with along of 68 and he slao scored twice receiving for a total of 13 TDs at age 32 is just ridicolous good. He was also effective in the wildcat formation when Ronnie was sill playing.
Grade - A+
OL- Long, Smiley, Grove, Thomas (Gardner) and Carey -
Overall Grade - B
The line was OK, especially in the running game. Gardner was a crucial backup playing all the line positions. They had problems pass blocking at times. Long is a 10 year probowler...
The Defense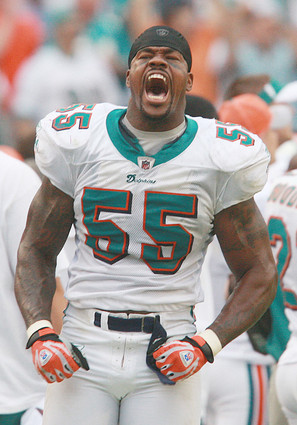 Defensive line - The D-line played at times well against the run and the pass but had trouble when masive NT Jason Ferguson went down with injury. The Dolphins should really look for a replacement to the 35 year old Ferguson as he is nearing retirement. Starks solidified his place as a starter and had 7 sacks to lead all defensive linemen. He was GREAT all season long and made a bunch of big plays. Langford played OK, not more than that. He did not improve on his very good rookie year. Both McDaniel and Merling played extensively. NT Jason Ferguson was the anchor of 3 down line and we could see the problems the team had when he was injured.
Overall Grade - B

DE Kendall Langford - He started all season and played OK against the run but failed to generatre any pass rush (2.5 sacks). He did look solid against the run. Can he make a leap in 2010 ? Grade - B-

NT Jason Ferguson - He anchors the line and is the most player in the 3-4 defensicve scheme. When he went down with injury the run defense collapsed. He is 35 and thinking about retirement so the Dolphins should really think of a way to get his replacement. back-up Soliali was inconsistent.
Grade - B+

DE Philip Merling - The second year man was supposed to be the other DE starter opposite Langford but he lost the job to Starks. He had a decent year but only got to thje QB 2.5 times. He is playing well for a backup DE but for a guy picked 32 overall he needs to play better.
Grade - C-

DE Randy Starks - He had a huge year as the starting 3-4 DE. He has 7 sacks (2nd on th team with Taylor) and he was constantly making big plays. He should have been selected to the probowl, that's how good he was (he was selected as an alternate) Grade - A

LBs - This unit needs a complete makeover. Joey Porter came down to earth with 9 sacks, Taylor had another 7 but th eproblem was inside. Crowder and Ayodele were below average. The middle opf the field was exposed to TEs and RBs going over the middle and the run stopping collapsed once NT Jason Ferguson went down. The Dolphins will probably upgrade the LBs in the off season.
Overall Grade - D

LB Akin Ayodele - He was below average to OK and not as good as he was in 2008. I think he won't return in 2010. He finished with 71 tackles and 0 INTs in 16 games, but htere were some very bad breakdowns in pass coverage in the middle of the field. OK but unspectacular. Grade - D

LB Channing Crowder - 52 tackles and 1 sack for a ILB ? He was also injured. He just did not play very well in 2009, let's hope he plays better in 2010 and leave it at that. Grade - D

LB Joey Porter - He came back to earth with a team leading 9 sacks (down from 17.5 sacks in 2008). He was a distraction at times off the field was suspended by Sparano for a game. He did not play as agood as the 9 sacks suggest. Only 41 tackles... Grade - C

LB Jason Taylor - He is not the dominant defensive player of the year he was just 3 years ago but he can still pass rush (second on the team with Starks with 7 sacks) and stop the run better than people give him credit for. He is a decent player I hope the Fins bring back in 2010. He still has 2-3 years left in him. Grade - B-

Defensive backs - The pass defense was just, in one word - BAD, in two words REALLY BAD. Suddenly, 2008 starter Renaldo Hill looks like Ed Reed. Free agent acquisition S Gibril Wilson can't seem to cover anyone. He was OK in run support but the coverage in the middle of the field was horrible. TEs had field dayds against the Fins D. TE Shockey, Clark, Gonzalez anyone can beat this secondary.
Overall Grade D

S Gibril Wilson - Yes, he played with 2 rookie CBs and yes he is a strong side safety playing free safety but he got tons of money and did not live up to the expectations. ZERO INTs as well. He had 93 tackle but that's because he couldn't cover very well. I'm sure he will have a much better 2010 season (whereever he plays) because he had a bad. Grade D-

S Yeremiah Bell - The Dolphins best player in the secondary. It's not saying musch and I don't think it'll last very much longer. He made his first Probowl (selected as an alternate but got in eventually) and led the team in tackles with 114. He also had 1.5 sacks. Grade B+

CB Sean Smith - He started as a rookie from day 1. He was burnt a few times but for a rookie he played well. He was good enough that opposing offenses started looking at the other CB position more. If he continues improving the Dolphins got a steal late in the 2nd round. He didn;t have an INT all season even though he has great hands. Grade B-

CB Vontae Davis - He replaced Will Allen when Allen was injured. Smith cracked the starting lineup before Davis but Davis led the team with 4 INTs. He had a solid rookie year even if he was burnt once in a while. He went against some big time WRs (Moss, Owens, Johnson, Wayne). He is great against the run and has safety like tackle ability. He's going to be a fine player for the Dolphins for years to come. Looks like a solid first round selection.
Grade B-




Special teams

K Dan Carpenter - He played solid, another great find for Ireland and company last year. Made the pro bowl in his second season.
Grade A

P Brandon Fields - He played OK and he is a nice solid player for Miami.
Grade B-

Coverage Teams - It was better than 2008 adventure ride type coverage but nothing fancy.
Grade C

Return Teams -
Ted Ginn won the Jets game all by himself with 2 TDs (100 ans 101 yards). But those were Ginn's only return TDs. He did have a nice year returning kickoffs averaging almost 25 yards a return. I thought they should try him more at punt return as Bess is a mediocre return man because of lack in speed. Grade B

Coaching

Coaching staff - A down year following the brilliant 2008 season. The injuries hurt and hey did what they could with the tough schedule and all the injury related changes. The big test is year three in 2010.
Grade C+

MVP

This is our 11th year of picking an MVP and unlike 2008 it was very difficult. There were a few candidates but no one outperformed all the rest. Can you really pick a LT as an MVP ? or a NT ?

You have to consider the following LT Jake Long, He is the best player on the team and a pro bowl player, but really an O-Lineman as an MVP ???
I thought about 100 year old NT Jason Ferguson but really a NT ??

Dan Karpenter ?, Randy Starks - Well, he had a very good year and he should have made the probowl but he wasn't that dominant, the team could lose him and be almost just as good.


At the end you have to come to a decision. The decision was difficult and I was contemplating having NONE as an MVP but that should be left to really really really bad years like the 1-15 2007 season, so... I came to the only conclusion I could, who is the one player the Dolphins needed the most down the strech ? RB Ricky Williams was the most important player as asoon as Ronnie Brown went down. He scored 13 TDs (and he was a backup for half the season) and ran for 1,121 at age 32 with a great career tieing best 4.7 yards a carry. He was responsible for almost 1400 yards running and receiving and carried the Dolphins offense in the second half of the year. That is why Ricky Williams is desreving of the dolphinsinfo.com 2009 MVP award

Williams is the first player to win the ward twice (2002 and 2009).

Now that you have read our 2009summarry and saw dolphinsinfo.com 2009MVP pick Let us know what you think. If you like we'll post your MVP selection or your comments on the 2009 season, so let us know what you think.

dolphinsinfo.com MVPs
1999 K Olindo Mare
2000 RB Lamar Smith
2001 S Brock Marion
2002 RB Ricky Williams
2003 DE Adewale Ogunleye
2004 TE Randy McMichael
2005 LB Zach Thomas
2006 DE Jason Taylor
2007 None
2008 QB Chad Pennington
2009 RB Ricky Williams