dolphinsinfo.com 2008 Season Summary
Grading the Dolphins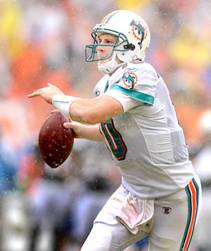 Wow, what a difference a year makes. The Dolphins were coming off a 1-15 season (and the 1 was a lucky one at best). They looked like a 6 year project at best. The team brought in Bill Parcells, but, let's be honest, we all knew Parcells was a great hire but even Parcells needed time to fix the train wreck that was the 2007 season. Parcells hired Ireland and first time coach Tony Sparano. The team was so bad no player made their own posters for 2008, instead the team tried to sell tickets with a picture of Parcells... The Dolphins made some great moves and they jumped on the opportunity to sign veteran free agent QB Chad Pennington. A lot of things went well for the Fins in 2008, but nothing was better then the Pennington signing, he played a brilliant 2008 season earning enough respect to be elected 2008 comeback player of the year and being named as runner-up to league MVP ! When was the last time a Dolphin was in consideration for MVP ? The Dolphins amazing 2008 run started with two losses and at 0-2 the team looked like the project everybody thought it was. Then came the Pats game and the Wildcat offense the Dolphins win against the Pats in week 3 gave the team renewed confidence and propelled them to a magical run of winning 11 of their next 14 games. The 11-5 record was enough to win the AFC east division crown for the first time since 2000 and to host a playoff game. The Dolphins lost the playoff game but established themselves as a good team heading into the 2009 season. The 3-4 year project was in year 3 by the end of the first Parcells year... Brilliant season, more than anyone could have ever imagined.
Now let's get personal...
QB Chad Pennington - Pennington was the reason for the amazing turnaround. Sure, a a lot of people contributed to the turnaround of 2008 but no one had a bigger impact on the team. Pennington somehow di not make the probowl even though he was the runner up for league MVP. He played in all 16 games and yes he doesn't have a big arm but he played a mistake free game the entire regular season. He finished 321 of 476 for 3653 yards 19 TDs and only 7 INTs the entire year for an amazing 97.4 QB rating Grade - A
QB Chad Henne and John Beck - Beck didn;t play in a single downa nd Henne played in one series in week two and was solid. Grade - No Grade Possible
WR Let's see, Three Dolphins finished the year with 56, 55 and 54 catches. Ginn played better in year 2 and Camarillo continued his progress from last year. Bess was a steal as an undrafted rookie. The team did have problems getting deep and only managed to catxh long passes.
Overall Grade - B-
WR Ted Ginn - Numbers 56 for 790 yards, 2 TD. He played better than last year and had one mega 175 yard game. He did dissappear in some games and he looked like a solid number two WR instead of a number one.
Grade - B-
WR Davone Bess - Numbers 54 for 554 yards, 1 TD. Bess was a huge steal as an undrafted rookie. He showed he can play in this league and be a great slot WR that can move the chains and run after the catch, something missing with Miami's other wideouts.
Grade - B+
WR Greg Camarillo - Numbers 55 for 613, 2 TD. A breakout second year for Camarillo, the 2007 savior (caught the TD that prevented 0-16) was a terrific number 2 WR until his injury, would have led the team with a 70 catch season if not for the injury.
Grade - B-
TE David Martin - Numbers 31for 450 yards 3 TDs. A decent year for the backup TE and at times he looked to be the team's big play man over the middle.
Grade - B-
TE Anthony Fasano - Numbers 34 for 454 and 7 TD. A great off season pickup. He was solid all throughout the year. He led the team with 7 catches (meanning every 5th recpetion went for 6). He solidifies his role as the starting TE for 2009
Grade - B+
RB Instead of million injuries they suffered in 2007 the unit was healthy and ran pretty well when they had a little help from the O-line. Ronnie went to his first probowl mainly because of his execution of the wildcat formation, Ricky ran well out of the wildcat as well. Overall Grade - B
RB Ronnie Brown - He had a great season running the wildcat. He rushed 214 times for 916 yards (4.3 average) and 10 TDs and he also threw for one score in his first probowl season. He did all that coming back from a serious injury in 2007 that most say it takes 2 years to recover from.
Grade - A-
RB Ricky Williams - He is still a very good runner that can easliy start fro the Dolphins and many other teams and he showed that in 2008. He rushed 160 times for 659 yards (4.1 yards) and 4 TDs. He was also effective in the wildcat formation.
Grade - B+
OL- Long, Smiley, Satele, Ndukwe and Carey -
Overall Grade - C
The line was OK, at times. They had problems run blocking and that's why the team went to the wildcat so often. Long had a solid rookie year and also made the probowl. Carey also had a good year in his more comfortable right side. The push up the middle was lacking especially in the C and RG positions. Smiley played well at LG up until his injury.
The Defense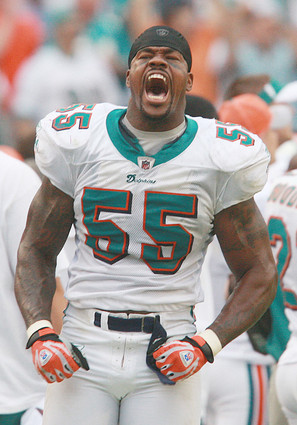 Defensive line - The D-line played at times well against the run but had troublr generating any pass rush. Holliday had 4 sacks to lead all defensive linemen. Langford was the only rookie starter but Merling played extensively. NT Jason Ferguson was the anchor of the new 3 linemen line and he stuffed the run like a true nose tackle.
Overall Grade - C

DE Vonnie Holiday - Holiday switched from a tackle in the 4-3 last year to an end in the 3-4. He had a solid season with 4 sacks and a solid year against the run, he did dissappear at times but all in all had a nice season.
Grade - B-

DE Kendall Langford - The rookie third round pick started from day one and played well against the run but failed to generatre any pass rush (2 sacks). He did look very solid and his future with the Dolphins looks bright, he will probably get better in 2009. Grade - B-

NT Jason Ferguson - He came back from injury he suffered in 2007 as a member of the Cowboys to anchor the D-line for Miami in 2008. He missed only one game and in this game we all saw how important Ferguson really is for the Dolphins.
Grade - B-

DE Philip Merling - The rookie second round pick had a decent rookie year. He played in all of the games and looked promising. He intercpted Bret Favre's pass and returned it for a TD in the final game of the regular season, the TD sent the Jets home and Miami to the playoffs. He had only 1 sack.
Grade - C

DE/NT Randy Starks - He played well at NT in passing situation and as a regular DE in the rotation, a nice year for the free agent pick up. A few more sacks could have helped (he had 3). Grade - C

LBs - This unit got a complete makeover with the departure of Zach Thomas. 2007 free agent Joey Porter had a huge season especially in the first 13-14 games when he was one of 3-4 candidates for NFL defensive MVP. They generated most of the pass rush with Porter and a few sacks by Roth who was moved from DE to OLB and managed to win the starting job at OLB.
Overall Grade - B

LB Akin Ayodele - He was quiet but decent as the starting ILB for the Dolphins. He finished with 75 tackles and 2 INTs in 16 games, solid but unspectacular. Grade - C+

LB Channing Crowder - He led the defense in 2008 and played well at times (although he made a huge mistake leaving Houston QB alone to score the winning TD), if not for a minor injury he would have led the team in tackles, he finished with 113 tackles for the year. Grade - B-

LB Joey Porter - Wow - 17.5 sacks, that's seventeen and a half sacks, he easily made the probowl and made a strong case for NFL defensive player of the year as he dominated a few crucial games (4 sacks in the turnaround game at New England week 3), A great year, no doubt. Grade - A

LB Matt Roth - He was moved from DE to OLB and nobody thought he had a chance but he won the starting job oppostie Porter and had a decent year. He finished number 2 in sacks with 5 and solidified himself as a key player in the Fins Defense. Grade - B-

Defensive backs - They played better as the season went along. The day Renaldo Hill made the starting lineup they played better although it was obvious they needed help at times. Porter's monster year obviously helped. A decent year.
Overall Grade B-

S Renaldo Hill - Decent play he lifted the entire secondary once he made the starting lineup. Grade C+

S Yeremiah Bell - The Dolphins best player in the secondary. A huge force, led the team with 120 tackles, if I were a WR I wouldn't want to be hit by Bell, a great year. Grade B+

CB Will Allen - The best CB on the team was consistent as always, solid is the best way to describe his season. Grade B

CB Andre Goodman - Goodman started slow but by season's end he was the best player in the secondary and the best defender this side of Porter. A very nice 5 INT season for Goodman.
Grade B




Special teams

K Dan Carpenter - The rookie kicker proved his worth in 2008. He played solid and did not look like a rookie at all, another great find for Ireland and company.
Grade B

P Brandon Fields - He played better then last year and he is a nice solid player for Miami.
Grade C+

Coverage Teams - Maybe the biggest dissappointment of 2008, even though so much was spent on special decent evey opposing return was an adventure and that's not a compliment for coverage teams.
Grade D-

Return Teams -
Where is Ted Ginn. Cobbs and Bess were decent but they don't strike fear in anyone. Grade D+

Coaching

Coaching staff - Lets keep it simple - Brilliant, great head coaching great innovation with the wildcat - just great.
Grade A

MVP

This is our 10th year of picking an MVP and it wasn't very difficult. There were a few candidated but one was really the only choice we could have made.

You have to consider the following LB Joey Porter, He had a great great year. 17.5 sacks and total dominantion of games. He was easily one of the top 4-5 defenders in the league and he would have won the MVP easily in almost every other year. He obviously made the probowl and showed he has plenty more in his tank. To be honest, Porter WAS Miami's pass rush in 2008 as he had very little help in that department.
Tony Sparano I know, we should only pick players for MVP, but if it were not for that...
Ronnie Brown - Well, he had a nice probowl year and ran the wildcat very very well even though he has no background at QB in any other level. He had a great season, no doubt.


At the end you have to come to a decision. The decision was, as I mentioned before, was easy. QB Cahd Pennington was by far the best player and the leader of this amazing turnaround. He had a great year throwing (97.4 rating, 67.4 completion percentage, 19 TDs, 7 INT) but what he also had was leadership and calmness leading the team and making everyone beleive the Dolphins can win any game. He brought the confidnece and the winning attitude back to Miami and he is more than deserving of the dolphinsinfo.com 2008 MVP award

Now that you have read our 2008 summarry and saw dolphinsinfo.com 2008 MVP pick Let us know what you think. If you like we'll post your MVP selection or your comments on the 2008 season, so let us know what you think.

dolphinsinfo.com MVPs
1999 K Olindo Mare
2000 RB Lamar Smith
2001 S Brock Marion
2002 RB Ricky Williams
2003 DE Adewale Ogunleye
2004 TE Randy McMichael
2005 LB Zach Thomas
2006 DE Jason Taylor
2007 None
2008 QB Chad Pennington