dolphinsinfo.com 2007 Season Summary
Grading the Dolphins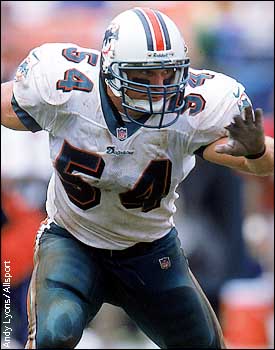 Well, how can you summarize the 2007 "season". What grade can you give a 1-15 team with the only win coming in overtime of a very lucky game that the team should have lost. The Dolphins were probably the closest team to go 0-16 in NFL history. The head coach was fired after just one year. Only 2 assistant coaches were retained.
The team played the worst season ever. Taylor made the probowl but to be honest I don't really think he should have.
The season was so bad Huizenga had seen enough and he sold half the team for 550M$. The next half will be sold in a couple of years.
The oofense was horrible. The Trent Green experiment failed. He was injured after five games and he wasn't that good in the 5 games he did play. He is obviously a backup QB.
Rookie John Beck didn't do much better as he could not hold the starting position and lost it to 3rd stringer Cleo Lemon. The only bright spot, the Europe game did not cost anything, the Fins managed to lose in 2 different continents. Ronnie Brown was injured and Ricky managed 6 plays before getting injured as well. The only good thing that happened in 2007 was the fact the Pats lost the superbowl and the 72 Dolphins remained the only unbeaten team in history.
Now let's get personal...
QB Trent Green - Even Culpepper played better than Green did, and that's saying much. Green had 5 TD and 7 INTs before the injury. Green numbers as a Dolphin - 85 of 141 for 987 yards, 5 TDs, 7 INTs anmd a rating of 72.6, don't laugh but 72.6 was enough to be the Dolphins highest rated passer...Grade - F
QB John Beck - Well, we still don't know if he can play in the NFL. He will be 27 next year and it will probably be his final chance to prove he can play. He had a bad season but he did play on a god awful team. His numbers - 60 of 107, 559 yards, 1 TD, 3 INTs and a 62 rating. Grade - D-
QB Cleo Lemon - He served as the starter most of the year and at times he played decent. He obviously did not seize the opportunity given to him. He is a backup QB and not the best in the league at that. His numbers - 173/309 1773 yards, 6 TD 6 INT and a a 71.0 rating. Grade - D-
WR Let's see, Booker had and off year "leading" the team with 50 catches. Chambers was traded to San Diego. Ginn has potential down the road. Dolphins' yard leader was Marty Booker with a grand toal of... 556 yards. That's four games for Randy Moss. By the way last year's leading receiver Wes Welker did OK in New England with 112 catches - that's equivalent of Booker, Ginn and Hagan combined.
Overall Grade - F
WR Ted Ginn - Numbers 34 for 420 yards, 2 TD. He played better each week and obviously has speed. He didn't receive any favors from the QB position. 2008 should be a breakout year for him.
Grade - B-
WR Marty Booker - Numbers 50 for 556 yards, 1 TD. Booker is a number 2 receiver and he was a number one on a bad team. His numbers led the team but he only managed 1 TD - one !!! ffrom the team's best WR. He won't be back in 2008.
Grade - D+
WR Greg Camarillo - Guys that have 8 receptions are not supposed to be included in the season summary, but he did catch the TD that prevented 0-16 from happening. We all will be forever grateful and his place in Dolphins trivia is assured forever.
Grade - C
TE David Martin - Numbers 34 for 303 yards 2 TDs. Let's try to be civil here - he didn;t have a good season and that's an understatement. I'm sure the team will try to upgrade the position next year.
Grade - D-
WR Derek Hagan - Numbers 29 for 373 and 2 TD. He did not make the leap after his rookie year and looked average at best. He won't start next year and I doubt he will ever be more thana number 3 WR.
Grade - D-
RB To sum it up in one question - How many injuries can happen in one season ? Overall Grade - D+
RB Ronnie Brown - He had a great begining and then got injured. He looked like a probowler and a true 2nd overall pick even though he played on a really bad team. He rushed 119 times for 602 yards and a 5.1 average. He also scored 4 time and he an extra TD receiving. He finished second on the team with 39 receptions even though he only played half a season !
Grade - A-
RB Samkon Gado - Played OK when hewas forced into action. Held his own in limited time. I don't see him coming nack next year when Roonie and Ricky are healthy again. Had 104 yards on 34 carries but had 3 TDs.
Grade - C+
RB Jesse Chatman - Revived his career last year and played well at times. 128 carries for 515 yards and a TD.
Grade - C
RB Ricky Williams - His comeback lasted all of 6 carries before getting injured, but he still exciting to watch.
Grade - NGP - No Grade Possible
RB Lorenzo Booker - The coaching staff didn't let him see the field for the first half of the season, but when he finally played he was probably the most exciting player on the field. He has speed and quickness and makes things happen, especially in the passing game. He had 28 carries for 125 yards and added 28 receptions for 237 yards. Not bad for half the season as a rookie.
Grade - B-
OL- Carey, Liwenski, Satele, Hadnot and Shelton -
Overall Grade - D+
The line was OK, at times, but the team did finish 1-15. Carey and Satele are probably the only ones worth keeping. The did not get any help from the QB play or that injuries to Brown and Ricky.
The Defense
Defensive line - The D-line played bad and probably was the number one reason for Miami's decline. The pass rush was non-existent (2006 - 47 sacks, 2007- 30 sacks) and the run stopping, or shall I say "stopping" was as bad as I have ever seen on any football team. Just Horrible. Traylor looked like the 60 year old man he is, Roth is not a starter in this league and may now be considered a bust (I'm sorry, a second rounder should be a solid starter in this league or else he gets the bust label) Holliday can't play 4 positions and even Taylor had bad games.
Overall Grade - F

DE Jason Taylor - The NFL's 2006 defensive player of the year declined in 2007 and wasn't that good. He did have a couple of dominant games and he did manage to rack up 10.5 sacks but he made the probowl on reputation and wasn't as dominant, especially in run support. We kne he couldn't play like 2006 but he couild have played better.
Grade - C+

DE Matt Roth - He started at DE opposite Taylor (meaning no double teams) and ended the season with 3 sacks. He can be a decent backup but he's not a starter. I predict he won't start in 2008. Grade - D-

DT Keith Traylor - Well, you can't fight time and his age made him a shell of his former self. He didn't play like "Truck". The run stopping was awful, just awful.
Grade - F

DT Vonnie Holiday - He had a decent year but he can't play all 4 positions. He wan't as dominant as in 2006 but then again who was? His sack total dropped from 7 last year to only 2 this year.
Grade - C-

DE Rod Wright - He played OK when given the opportunity but nothing special, 2008 will be the year for him. Grade - C

LBs - This unit is ageing and they are also to blame for Miami's inability to stop the run at all this season (Justin Fargas getting to almost 200 yards in a half anyone ?). Crowder was average and Zach was injured. Porter started very slow and people labeled him a bust but he did play much better as the year went along.
Overall Grade - D-

LB Zach Thomas - He was injured most of the year and his age is begining to shown but he is still a solid LB. Grade - D

LB Channing Crowder - He did not show any improvement over 2006 and the new regime will put him on notice. I really thought he would play better. The lack of big plays is surprising. Grade - D-

LB Joey Porter - He started the season slow after missing training camp but got better, especially in the second half of the season and finished the season with 6 sacks. second on the team to JT. Grade - C-

Defensive backs - The loss of Bell in week 1 set the tone to what looked to be 1 million injuries. The caoching staff made everything possiblr in order not to insert Jason Allen but had no choice and he probably played better than the others...
Overall Grade D+

S Renaldo Hill - Decent play until he got injured. Grade C-

S Yeremiah Bell - Oh, what might have been... Grade NGP - No Grade Possible

CB Will Allen - Probably the best defendet this side of JT in 2006. He had a quiet solid year. By far, the besy player in the secondary and a solid CB. Only 1 INT though. Grade B

S Jason Allen - He is probably a very bad pracrice player as the coaching staff made every effort known to man in order to avoid inserting him to the lineup. He plays much netter though. He was the best safety in 2007 made progress and led the team with 3 INTs, had a huge game against the Eagles. Maybe he can play even better in 2008, hold that bust label just yet...
Grade C+

CB Michael Lehan - Lehan is a third CB that starts on a bad team like the Dolphins. He looked better than expected and was helped by the fact that the Dolphins could not stop the run so why bother passing ? He held his own most of the year and is a decent CB.
Grade C




Special teams

K Jay Feeley - Finally, we get to the only upgrade on the 2007 team compared with the 2006 team. Feeley was much better than Olindo Mare was in 2006 and played very well when given the opportunity to kick.
Grade B+

P Brandon Fields - Mediocre rookie season from Fields.
Grade C+

Coverage Teams - The Dolphins had an awful special teams in 2007, one of the worst areas on the team (and being 1-15 that is saying a lot). They let the top special teams players sign elsewhere - Morris, Minor, Bowens etc. and the results came promptly.
Grade F

Return Teams -
Ginn returned a punt for a TD. He also had two kickoff return for TD called back for penalties away from the play. Ginn is by far the best returner the Dolphins have had in years but even he could not get away at times with virtaullt no blocking from the other 10 special teamers. He alone get a B+ but the blocking unit sinks this grade. Grade C-

Coaching

Coaching staff - Lets keep it simple - the Dolphisn record - 1-15 (almost 0-16), nobody is that bad. Enough said.
Grade F

MVP

This is our 9th year of picking an MVP and it is by far the toughest pick we have ever made. To be honest, noone should be named MVP on a 1-15 team but let's at least look at the candidates

You have to consider the following DE Jason Taylor, He had a solid yet unspectacular year. In any normal year his performance would not have him in the final candiates, enough said.
CB Wll Allen He had a solid year and was, perhaps, the best player on defense the entire year. He did have only 1 INT which was a combination of teams running on the Dolphins and the big leads the opponets had.
Jay Feeley, he was very good when asked to kick but in order to pick a kicker as MVP he should be at leat a probowler, Feeely would never get to the probowl with such a bad team.
Ronnie Brown, the only player that really had an outstanding year worthy od the MVP selection but he was injured early and lost for the season, can you really give the MVP award to a plyer that plyed less thean half the season ? what does that say about the team ? how bad were they ?


At the end you have to come to a decision. The decision was, as I mentioned before, a tough one but also an easy one. Nobody deserves an MVP award after this disaster of a 1-15 season and therefore noone would get it

Now that you have read our 2007 summarry and saw dolphinsinfo.com 2007 MVP pick Let us know what you think. If you like we'll post your MVP selection or your comments on the 2007 season, so let us know what you think.

dolphinsinfo.com MVPs
1999 K Olindo Mare
2000 RB Lamar Smith
2001 S Brock Marion
2002 RB Ricky Williams
2003 DE Adewale Ogunleye
2004 TE Randy McMichael
2005 LB Zach Thomas
2006 DE Jason Taylor
2007 None