dolphinsinfo.com 2006 Season Summary
Grading the Dolphins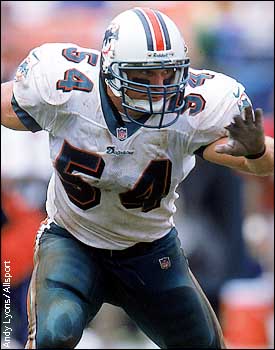 The 2006, unlike 2005, started with high expectations. Sports Illustrated magazine chose the Dolphins to make the Superbowl, no less.
The franchise finally had a QB that can take a team to the big game in Daunte Culppeper. The Dolphins chose him over Brees, mainly because of medical reasons beleiving he will be ready for the season.
That was the worst mistake they ever made. Culpepper never recovered form the injury while Brees led the Siants to the NFC championship game and was second in the MVP race. It was not Culpepper's fault and he may still be a very good long term QB for the Dolphins, but the problem was the Dolphins rushed him back and by doing that he could not return later in the season. His rehab looks in hindsight not very well managed to put it mildly and it's not Culpepper's fault in any strech of the imagination.
In the few glimpses we did see of him, it was obvious, that if healthy he is a very good QB. To put all Miami's failings on the QB situation is just not right.
This team had many more problems and holes. The O-line looked to be a joke, not only the revolving door at guard. The team failed to upgrade the LT position and the running game suffered much more than expected from the Ricky Williams suspension.
I have said it in the past and I still strongly beleive that Ricky Williams is, by far, Miami's best offensive player. He is much better than Brown, that's not a knock on Brown, Ricky is just that good. Brown can and will be a solid RB, albeit not worthy of a 2nd overall selection, but Ricky, when he gets into it is just a superb player. He essentially played 10 real games in 2005 after a year layoff and started in only two but finished with 743 yards (that's almost a 1200 yard pace for a backup...).
As for the receiving corps, well they played their best and their best was an average performance. I never thought Chambers was a number one WR and now everyone agrees and Booker, in my opinion, is a very good player. A capable number 2 receiver and he showed it in 2006. He was, by far, Miami's top WR.
The Defense played, at times, very well. Miami was strong on the D-line led by Taylor's monster year. He not only made the probowl but he was voted NFL defensive player of the year with good reason.
The LBs held their own. The secondary was the weak link as expected but at least they are young because the D-line are good but old, very very old.
The caoching was probably the worst in recent history. This team is better than 6-10 that I can guarantee.
The play calling was, in a gross understatement weird. Nick "I'm not going to be Alabama coach" Saban's decision sometimes just looked awful.
The team got zero production from the draft. First rounder Jason Allen did not start a game. third rounder WR Derek Hagan caught a few balls but could not replace Welker as a third WR, the others could not make onto the field. So much for knowledge of the college game...
Now let's get personal...
QB Daunte Culpepper - Culpepper started the first 4 games even though he wasn't receoverd from his injury and it showed. He finished 81 of 134 for 929 yards, 2 TDs and 3 INTs. A rating of 77. It wasn't a bad performance as many people say despite the 21 sacks surrendered. The question is can you really Grade Culpepper's injured performance ? I don't think so. Grade - NGP - No Grade Possible
QB Joey Harrington - He was traded from Detroit for exactly this reason. To start if Culpepper was not ready. He started 11 games and showed his now famous inconsistency. He sometimes made "What was he thinking" kind of plays but also played good at times. He is a capable backup QB. He finshed with 223 of 388 for 2236 yards, 12 TD and 15 INTs (!) and a 68.2 rating. Grade - D
QB Cleo Lemon - He got his first start of his career. He did show he was probably a very good number 3 or more likely a decent number 2 QB. He finished the season as Miami's highest rated passer (which is not that difficult considering Harrington and Culpepper's numbers) with 77.6 rating points. He went 38 of 68 with 2 TD and 1 INT. Grade - B-
WR This was the true showing of their skills and they were average at best with a huge lack of a go to number one guy. Chamers proved to be the overrated WR he is. McMichael dropped too many balls. Booker and Welker had solid years.
Overall Grade - D+
WR Wes Welker - Numbers 67 for 687 yards, 1 TD. Miami's true possesion WR. Big year for him. Tells you sometihing about the rest of the WR when your returner leads the way with 67 catches.
Grade - B+
WR Marty Booker - Numbers 55 for 747 yards, 6 TDs. Booker is a very good WR. He played better in 2006 and he is certainly capable of being a number 2 WR in the NFL. He led the team with 6 TDs and was the only big play guy on the team.
Grade - B+
WR Chris Chambers - Numbers 59 for 677 and 4 TDs. God awful year. Proved to be the overrated WR that he is. He wasn't worthy of the probowl invitation in 2005 and it showed. Just a bad year. 677 yards for a number 1 WR that was not injured at all ?
Grade - D-
TE Randy McMichael - Numbers 62 for 640 yards 3 TDs. His numbers were decent for a TE but he is not top shelf as he wants people to think and as his salary indicates. He did drop way too many balls.
Grade - C
WR Derek Hagan - Numbers 21 for 221 and 1 TD. The third rounder dropped a few balls but looked OK at times. Time will tell and it will be his make or break year in 2007 under a new coach.
Grade - D+
RB To sum it up in one sentence - YES, not having Ricky Williams IS a big deal. Overall Grade - D+
RB Ronnie Brown - He just barely made the 1000 yard plateu - which is not that big of a deal these days. 241 rushes for 1008 yards and 5 TDs. He was injured for the second straight year. He showed he was a very good runner at times but he doesn't look like the second overall pick, I mean Eric Dickerson was the second overall pick... He does not look like Barry Sanders either, also a high pick. Maybe Cameroon who coached LT can make better use of him in 2007. He is a solid RB, no doubt.
Grade - B
RB Sammy Morris - Sat out the first 4 games with a suspension. Ended up with 92 carries for 400 yards and 1 TD. He had a decent year for a backup.
Grade - C+
RB Travis Minor - He was rarely used as a runner with only 19 carries for 74 yards.
Grade - C
FB Darian Barnes - The starting fullback in his second year with the Dolphins played OK. A defenition of a power FB. Did not have a single carry all year.
Grade - C
OL- McIntosh, James, Hadnot, Shelton and Carey -
Overall Grade - D+
The line did not have a good year. The Dolphins lost a million RGs to injuries and had to move LT LJ Shelton to play guard. Shelton was a high priced free agent acqusition and the team did not spend all this money on a guard. They ended up paying LT money to an inside guy. It's not like McIntosh was that good. Culpepper was sacked 21 times in the first 4 games. He did hang on to the ball too much but it wasn't his fault. They did play better as the year came along. The run game was average at best. It would have probably looked better had Ricky played this year.
The Defense
Defensive line - The D-line played well. They ended up with 47 sacks, just 2 shy of a club record. The D-line, while old, very very old, played very very well.
Overall Grade - B+

DE Jason Taylor - The NFL's defensive player of the year despite Miami's bad record. He finished with 13.5 sacks, 9 forced fumbles, 2 INTs he returned for TD and generally terrorizing the opposing offense, A super year.
Grade - A+

DE Kevin Carter - The veteran showed he was far from finished. He had 5.5 sacks and 2 fumble recoveries, third on the team. He had a solid year against the pass and the run. Grade - B+

DT Keith Traylor - Well, there is a reason his nickname is "Truck". He can take 2 blockers in the middle with ease even at his grandad age. He also added 4 sacks.
Grade - B-

DT Vonnie Holiday - He had a huge year. The best D-line not named Taylor. He should have been mentioned for the probowl. he was that good. He finished with 7 sacks which was second most for an inside guy in the league. He also added 66 tackles. A very good year for Holliday.
Grade - A

DE David Bowens - He played well and finished the year with 5 sacks as a part time player. Not bad. Grade - B-

DE Matt Roth - He played well and showed considerable improvement. He had 3.5 sacks on the year. Grade - B-

LBs - This unit is ageing but they still played well. We saw the bright spots at second year man LB Crowder. Zach made yet another pro bowl with 165 tackles. Another solid year for him.
Overall Grade - B

LB Zach Thomas - Although some are mentioning his age, he doesn't seem to slow down. Zach was his usual self. He made yet another probowl and made 165 tackles, that was enough to lead the entire NFL Grade - A

LB Channing Crowder - a solid second season. He made 103 tackles, second on the team to Zach. Grade - B+

LB Donnie Spragan - He started all season, he is not a flashy guy but he kept his own. A quiet season for the veteran. Grade - C+

Defensive backs - This unit was the weak link in Miami's defense despite Saban's so called expertise and the drafting of 1st rounder Jason Allen. The coaching staff was late in inserting Yeremiah Bell to the starting lineip and it cost the Phins.
Overall Grade D+

S Renaldo Hill - 86 tackles and he also "led" the secondary with 2 INTs. Grade C+

S Yeremiah Bell - Only big play guy in the secondary. There is no denying the unit played much better when he was moved to the starter position. He had 2 fumble recoveries, 2 sacks and 68 tackles (4th on the team) despite not starting from day 1.
Grade B

CB Will Allen - Allen played better than expected. He won't go to the pro bowl any time soon but he was a decent replacement to Sam Madison at a decent price. Grade C+

CB Travis Daniels - Daniels was injured in a big part of the season. Lost/regained/lost his starting position. Grade C-

CB Andre Goodman - Played better than expected. He was supposed to be a 4th CB but ended up starting most of the year due to injuries. He was beaten badly at times as any corner is.
Grade C

S Jason Allen - Allen was the 16th overall selection but he could not crack the weak starting lineup. Some blame his 2 week delay in getting to training camp, I find it ridicolous. If he doesn't play much better in 2007 we will call him what he is right now, a bust.
Grade D-




Special teams

K Olindo Mare - Mare started awful although most of his misses were long range. I knew he was a problem when a 40 yard FG felt far from a sure thing. He did also miss easy FGs which he never missed before. He can be a decent kicker but not at this price. I will be surprised if the team brings him back in this price in 2007. He missed two from under 39 yards and 3 from under 49. He was only 1 of 6 from 50+. His kickoffs were super, as usual.
Grade D-

P Donnie Jones - He did not play as good as in 2005 but he still is a decent punter.
Grade C+

Coverage Teams - The Dolphins had a solid year on their coverage teams.
Grade B

Return Teams -
Welker had a 22.2 yard average on kickoffs and 9.2 on punts both are comparable to 2005 and down from 2004. Grade C-

Coaching

Coaching staff - What a difference a year makes. The play calling was bizarre to put it mildly. We will never forget the RB pass on a game tieing 2 point conversion. The defense was solid but it all pailed compared to Nick "I'm not going to be Alabama coach" $aban's comments on the Alabama job he ended up taking. Even if you ignore the Alabama fiasco, this team is much better than 6-10. He took the wrong QB and then he played him when he was not ready and that ruined the entire year. I'm sorry, Dom Capers's good coaching and the assistant's job can not clound the bottom line, this team made the wrong moves and ended up with a 6-10 record despite having superbowl expectations.
Grade F

MVP

This is our 8th year of picking an MVP and it is by far the easiest pick we have ever made. To be honest let's look at the candidates even though we all know what the selection will be.

You have to consider the following DT Vonnie Holliday, He had a solid year up the middle and was one of the reasons the D-line played so well.
Jason Taylor we'll get to him.
Another strong candidate is Zach Thomas, he is another player that people raised doubts about his age. He showed he was far from finished making another probowl selection leading the league in tackles with 165.


At the end you have to come to a decision. The decision was, as I mentioned before, the easiest we have ever had to make. DE Jason Taylor was voted the NFL's defensive player of the year. The first Dolphins to be named defensive POY since Doug Betters in 1983. He had 13.5 sacks, 2 INTs, 2 TDs and 9, yes N-I-N-E forced fumbles. Hard to beleive he played even better than the stats indicate as he, at times, took over games, completely dominating the opposing offense. It was truly the best performance by a Dolphin player in years. This is why DE Jason Taylor is the 2006 dolphinsinfo.com MVP.

Now that you have read our 2006 summarry and saw dolphinsinfo.com 2006 MVP pick Let us know what you think. If you like we'll post your MVP selection or your comments on the 2006 season, so let us know what you think.

dolphinsinfo.com MVPs
1999 K Olindo Mare
2000 RB Lamar Smith
2001 S Brock Marion
2002 RB Ricky Williams
2003 DE Adewale Ogunleye
2004 TE Randy McMichael
2005 LB Zach Thomas
2006 DE Jason Taylor