dolphinsinfo.com 2005 Season Summary
Grading the Dolphins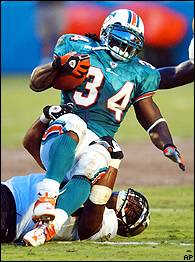 The 2005 season started with very low expectations. After the embarrassment of the 2004 season the Dolphins began year one of their rebuilding process under new head coach Nick Saban. Most previews thought the Dolphins will struggle and win 4 to 6 games in 2005.
The offseason started by Saban taking back Ricky Williams. Ricky was suspended for the first 4 games and struggled at first but when he got going he played at a vey high level. The move to bring Ricky back by Saban turned out to be a very wise move that helped the team throughout the season. He is still an elite NFL running back.
Saban traded away pro bowl CB Patrick Surtain because of cap considerations and turned to overhaul the defense when most people thought the offense needed the biggest makeover. Vetereans Jason Taylor and Zach Thomas, who some thought wouldn't fit in Saban's occasional 3-4 system, turned out to be a very good fit in Saban's system. Taylor finished with 12 sacks as both made the probowl.
Saban also brought in free agents DE Kevin Carter, DT Vonnie Holiday, DT Keith Traylor, S Lance Schulters and S Tebuckey Jones - all started from the begining.
The draft looks now to have been a success. RB Ronnie Brown shared carries with Ricky but still played very well. He finished with over 900 yards as the two combined for more than 1,600 yards rushing and 10 TDs (6 by Ricky). Second round pick DE Matt Roth joined a good unit and did receive some playing time. The surprise were LB Channig Crowder and CB Travis Daniels, we all knew they were good players, especially Crowder, but nobody thought they will be starters from day 1 and they were. The offense under Scott Linehan also improved from 29th to 14th. It's a shame the Dolphins lost Linehan when he signed as the new head coach of the Rams. Saban's biggest decision was the starting QB. He picked Frerotte and stayed with his pick even when he struggled. AJ Feeley was traded to San Diego and that concluded one of the worst trades in Dolphins history.
The Dolphins started well winning 2 of their first 3, the wins were against Carolina and Denver, both made their conference's championship games. After that the team had a bad run that hit a low in the Cleveland game. Saban stuck with his plan and the Dolphins finished with an impressive win streak of 6 to end the season with a very surprising winning record of 9-7. They were close to making the playoffs in a year most people did not see them winning more than 6 games at best. The final weeks of the season and Saban's coaching will bring a lot of excitment to 2006 when the Dolphins should be strong in the running for a playoff spot.
Now let's get personal...
QB Gus Frerotte - Frerotte had his best year as a pro since his probowl year in the mid 90s. He finished with 2,996 yards and 18 TDs with 13 INTs. His rating wasn't very good at 71.9. He did take hold of the starting position from day 1 and finished with a 9-6 record. Grade - C+
QB Sage Rosenfels - The long time backup showed promise with a brilliant come from behind victory against the Bills but also had an awful game in his only start against the Browns. He finished the year with a 81.5 rating which is good. Grade - C+
WR This was the breakout year everyone expected of Chris Chambers. Booker also played well. While Boston was injured the Dolphins lacked a good 3rd WR although Wes Welker did an OK job. McMichael had 60 catches on the year.
Overall Grade - B-
WR Wes Welker - 29 catches for 434 yards but no TDs. He played well at times.
Grade - C+
WR Marty Booker - Booker is a very good WR. He played better in 2005 and he is certainly capable of being a number 2 WR in the NFL. He had his highest yards per catch of his career finishing with 17.6 yards per catch. He had 686 yards on his 39 catches scoring 3 times.
Grade - B-
WR Chris Chambers - He finally had his breakout year earning his first probowl selection. Highlighted by his mega 15 catch 238 yard game against the Bills he finished with a career high of 82 catches for 1,118 yards and 11 TDs. He, at times, dominated the game but he still has times when he is very quite during a significant strech of time. A great year.
Grade - A
TE Randy McMichael - He didn't play as good as in 2004 but it still was one of the best performances of his career finishing with 60 catches for 582 yards and 5 TDs. He is a very good TE, probably in the top 6-7 in the league.
Grade - B+
RB Oh, what a difference a year makes. In 2004 the Dolphins had six RBs starting for the Dolphins - Sammy Morris, Travis Minor, Lamar Gordon, Leonard Henry, Brock Forsey and Vick King. In 2005 the RB position became the strongest on the team headed by a two RB attack that you can put next to anyone in the league. Rookie RB Ronnie Brown is certainly a very good player worhty of his high selection and Ricky came back and after a few games he played like he never left. They both combined for more than 1,600 yards with a 4.4 average and 10 TDs. Great year for the RB position. Overall Grade - A
RB Ronnie Brown - He started slow but picked up the tempo and played very well while sharing the load with Ricky. He showed a lot of promise although he did have a few problems with fumbling in critical situations. He is also a very good receiver. He can also block although players that get 19.5 million dollar bonuses don't block that much. He finished with 907 yards on 207 carries (4.4 average) and 4 TDs. He also added 232 receiving yards on 32 catches and a TD.
Grade - A-
RB Ricky Williams - Oh, what a rollercoaster year. It started with the rumors he was considering a comeback, the motives were not important (the 8.6 million judgement against him could have been one of them), he came back much slimmer with more speed. He then sat out the first 4 games with a suspension and then slowly came back to his usual playing level picking with a 170+ yard game in December. He had a great year considering. The best predictions were a 500 yard season and that looked a reach at the begining of the year. He shared the duties with Ronnie and ended up with 743 yards on only 168 carries (4.4 average) and 6 TDs. He also showed, when Ronnie was injured, that he can still carry the load by himself if needed. In my mind he is still the best Dolphin offensive player.
Grade - A
RB Travis Minor and Sammy Morris - Both did a good job as backups and special team players. They did not get a lot of carries considering the talent level around them.
Grade - C+
FB Darian Barnes - The starting fullback in his first year with the Dolphins played well and often and it showed the coaches liked him enough to let him start in front of Morris. A defenition of a power FB. Did not have a single carry all year.
Grade - C+
OL- McIntosh, James, McKinney, Hadnot and Carey (McDougle) -
Overall Grade - B
The line improved drastically under new O-line coach Hudson Houck. The Dolphins rushing game was much better but with Ricky's return and the drafting of Ronnie it was expected but the pass protection was also much, much improved. Frerotte was actually one of the leaset sacked QBs in the entire league as the Dolphins gave up only 26 sacks. Carey lost and reagained his starting position to Stockar McDougle. McDougle hasn't lived up to his free agent expectations. Hadnot showed he can be a very good center when McKinney was injured and Ephraim cracked the lineup as the starrting RG and Hadnot shifted to the C position.
Coach Houck took basically the same group as in 2004 and turned their play almost in an instant, there was a reason why Saban paid him 800,000 dollars a year. He was well worth Huizenga's money.
The Defense
Defensive line - The D-line played well against the pass and they were OK against the run. They ended up with a club record 49 sacks and all joined in.
Overall Grade - B+

DE Jason Taylor - He made the pro bowl in another great year finishing with 12 sacks. There was some concern as to how good will Taylor fit in Saban's often used 3-4 alignement. Taylor had to play at times OLB in passing situations, but he showed he is just a good player no matter where you put him. He still is, perhaps, the best Dolphin player.
Grade - A

DE Kevin Carter - The veteran showed he was far from finished. He had 6 sacks, second on the team with David Bowens. He had a solid year against the pass and the run. Very good free agent acquisition. Grade - B+

DT Keith Traylor - Well, there is a reason his nickname is "Truck". He can take 2 blockers in the middle with ease even at his age. Durability was a concern at his age and he missed a few games but when he played he was the force in the middle of the defense. He is like a mountian of a man and he is just, at times, unmoveable. Another good pick up by Saban.
Grade - B+

DT Vonnie Holiday - He came over form Kansas City. He started all 16 games at DT and played very well. he also added a bonus of 5 sacks that wasn't expected of him. His pass rushing days at Green bay were long gone, so we thought. A solid year from this, yet another, free agent.
Grade - B+

DE David Bowens - He lost his starting position to Carter but did not make a big deal out of it. He played well and finished the year with 6 sacks as a part time player. Not bad. Grade - B+

LBs - Injuries forced Miami to play 5 LBs for extensive time but in general they all played well. Although this unit is ageing, we saw the bright spots at rookie LB Crowder and free agent pick up Donnie Spragan, both will be featured for the next few years in Miami's defense.
Overall Grade - B

LB Zach Thomas - Although some doubted how he will react to playing in Saban's schemes Zach was his usual self. He made yet another probowl and if not for a few nagging injuries he could have had a shot at a 200 tackle year (he ended up with 158 tackles). Grade - A

LB Junior Seau - He can still play. He no longer is the player he was but he did play OK. Finished the year on injured reserve. Is this the end of the line for this future first ballot hall of famer ? Grade - C+

LB Channing Crowder - An excellent rookie year. The 3rd round draft choice was considered a steal in the third round, a few pre draft experts had him going in the first round. He dropped because of off the field problems but he sure played like a first rounder. He started from day one and even filled in at MLB when Zach was injured. He will be a key player in the Dolphins defense for years. He finished second on the team with 84 tackels. Grade - B+

LB Donnie Spragan - He was signed away from Denver in hopes to start alongside Zach and Seau. He lost the position to rookie Channing Crowder but he did play very well and was inserted to the starting lineup when Seau went down with an injury. Grade - B-

Defensive backs - This is the unit that will need help at the offseason. The team traded away Surtain in hopes Poole will take over his spot and then Poole was injured and did not play all year forcing the team to go with rookie 4th round pick Travis Daniels as the starting CB. The safeties were also new to the team and they did give up a few big plays. There were bright spots also. Schulters for example finished with 4 INTs and generally played well.
Overall Grade B-

S Tebuckey jones - Jones played well until he was knocked out with an injury. He had 39 tackles on the year. Grade C+

S Lance Schulters - Schulters managed to secure a starting position during training camp and kept his position throughout the year finishing with a team high 4 INTs. He played well.
Grade B-

CB Sam Madison - Madison played well, very well. He finally had a pick finishing with 2 INTs on the year. He is on the decline but he is still a very good CB. Grade B

CB Travis Daniels - Daniels wasn't even the best CB at LSU. Saban admitted he wanted to draft LSU's Corey Webster in the second round but the Giants picked Webster a few places before Miami was on the clock. So in the 4th round Saban wanted to make sure he had a decent CB he knows and he took his own college player in Daniels. After the team traded Surtain and Poole was injured Daniels played well enough to earn the starting position over veteran Reggie Howard from day 1. He was beaten a few time but in general he had a much better than expeted rookie year gaining a lot of experience for a rookie. Grade B-

S Yeremiah Bell / S Travares Tillman - Both showed big play ability in limited roles. Tillman took Jones spot in the starting lineup and Bell also played a lot. Bell had 3 sacks and 2 fumble recoveries.
Grade B-




Special teams

K Olindo Mare - Mare bounced back in 2005 and was olid. He rarely missed and he did have a 53 yard FG.
Grade B-

P Donnie Jones - He displaced Turk from the starting position. It looked like the Dolphins were going with a below average punter but it turned out he was much better and consistent than people thought. He finished with a 39.3 net average and had a great season.
Grade B+

Coverage Teams - The Dolphins had a solid year on their coverage teams.
Grade B

Return Teams -
Welker had a 22.6 yard average on kickoffs (long of 46) and 9.1 on punts (long of 47), both were down from 2004. Grade C-

Coaching

Coaching staff - It is obvious Nick Saban is a good football coach. He took a bad team with no QB, secondary or OL and turned the first rebuilding year into a 9-7 record nobody ever expected.

Most experts had this team finishing 4-12 or 5-11, even I had them at 7-9 as best case scenario and privately thinking that with a lot of luck maybe they could get to 500. But 9-7 and playing good in Devember, having them beleiving and transforming the offense from 29th overall to 14th is a big achievment in Saban's first year. The running game and the O-line play was much improved.
It looks as though the draft brought a few future stars in Brown and Crowder and Daniels was also a solid player. Roth contributed as well. Wrght, Vickerson and Alabi could still contribute in the future.

This team is headded in the right direction which is exactly the opposite of what we said last year and that's exactly what we wanted from Saban and his staff.
Grade A

MVP

Let's look at the candidates.

You have to consider WR Chris Chambers, He was voted to his first pro bowl finally living up to his potential. He had a mega 15 catch 238 yard game against the Bills both franchise records and he caught the game winning TD at the end of the game. He finished the season with 1,118 yards, his first 1,000 yard season and had another great year in the endzone catching 11 TDs. All this without the best QB in the world throwing him the ball with all do respect to Gus Frerotte.
Jason Taylor is always a good candidate and he played well in 2005 earning another trip to the probowl. He finished the year with 12 sacks erasing any doubts he could play in Nick Saban's defense. He is just a good player and good players can play in any system.
Another strong candidate is Zach Thomas, he is another player that people raised doubts wheather he would fit in Nick Saban's defense. He, like Taylor, showed a good player can play in any scheme. He had 158 tackles, as usual leading the team and 2 sacks, 1 INT and 1 fumble recovery.
Another option was to go with coach Nick Saban but at the end I decided to stick to the conventional thinking and pick a player although Saban is probably the most deserving.

At the end you have to come to a decision. The decision wasn't a clear cut choice as some of the previous years like the 2002 season (Ricky) or the 1999 season (Mare) Finally, I thought I had to choose between 2 options, Zach or Taylor not only for the 2005 season but both are constant candidates that somehow I never picked as MVP, Both are deserving and you can go either way. I beleive Taylor will have another shot. Zach Tomas led the defense and is well desrving. So this is why Zach Thomas is the 2005 dolphinsinfo.com MVP.

Now that you have read our 2005 summarry and saw dolphinsinfo.com 2005 MVP pick Let us know what you think. If you like we'll post your MVP selection or your comments on the 2005 season, so let us know what you think.

dolphinsinfo.com MVPs
1999 K Olindo Mare
2000 RB Lamar Smith
2001 S Brock Marion
2002 RB Ricky Williams
2003 DE Adewale Ogunleye
2004 TE Randy McMichael
2005 LB Zach Thomas