dolphinsinfo.com 2003 Season Summary
Grading the Dolphins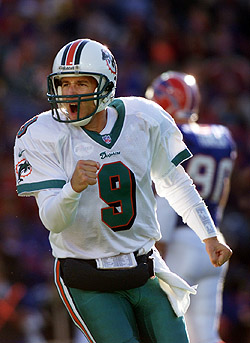 The Dolphins stared the 2003 season with great promise. After winning 31 games in 3 years the Dolphins upgraded their roster with Seau, Griese, Knight and Thompson. The Dolphin roster was strong and after playing together for a few years the team was primed for a Superbowl run.
It ended in a different direction. The Dolphins won 10 games but were out of the playoffs by week 16, they didn't take advantage of Ricky's abilities and the backup QB wasn't upgraded as expected as Miami's offense continiued to struggle the same way it did the last few years. In fact, the Dolphins offense has played well consistently since the Marino days.
The Dolphin defense did their part. It wasn't their best season the last couple of years, but they sure did their part with some excellent performances.
The 2003 season started with high hopes of getting to Pro Football's promise land - the Superbowl. The end saw the Patriots winning the Lombardi trophy with the Dolphins not making the playoffs. They were the first team in over ten years to win 10 games and not make the playoffs.
The Fiedler injury again hurt the Dolphins, the loss at home to 2nd year team Houston cost the team the playoffs at the end. They did rebound and won the next 4 to go 4-1, but they then had the opportunity of the season to break New England's win streak and win a crucial division game. I don't know if a win against New England would have given them the inside track on the division title but it certainly would have made them strong contenders and it would have changed the outcome of the season. The Dolphins had two opportunities to win at the end of regulation and in overtime and Mare missed twice from inside the 40, something which is unacceptable, certainly in this kind of game. Owner Huizenga was right in pointing that game out of Miami's 6 losses in 2003.
Now let's get personal...
QB Jay Fielder - Fielder had his worst year in his career. He was injured again and his replacement played even worse. He finished with 179 of 314 for 2138 yards with more TDs than INTs going 11 and 13. His rating was a mere 72.4 point rating. He had his usual inconsistencies with bad games along with great ones (the comeback against the Redskins for example). Grade - C-
QB Brian Griese - He came in as a possible replacement for Fiedler. I never thought he was but a lot of people thought he could be the starter. We quickly learned that Fiedler was much better than Griese. He did start very well by throwing for 3 TDs. But, that was against the Chargers in a neutral stadium that resembled a college game. The Chargers were the worst team in Football and righfully won the 1st overall pick by a landslide.. Griese didn't play very well the rest of the way.
He held the ball for ages, it led to him being sacked routinely. The Redskins really put the QB debate to rest as Griese started and Washington bulit a lead until Fiedler entered the game. He finished his brief Dolphin career with 74 of 130, 813 yards 5 TDs and 6 INTs and 69.2 rating. He could be a backup in this league but on a team with better offense and Miami doesn't have a very good offense. The O-line, as in Fiedler's case didn't help either. Grade - D
WR It was an awful year for the WR corps. Thompson was brought in to start opposite Chambers, but he wasn't capbale to fill that role. Chambers failed to reach the 1,000 yard plateau, Thopson finished the season with 26 catches and zero TDs. The Dolphins started a player straight from their practice squad - Kendall Newson, this is how bad it was.

Grade - D-
WR Derrius Thompson - 26 catches, zero TDs for a guy who was brought in to start opposite Chambers and replace Gadsden. He had a bad year. He is not a bad WR, but he is not a starter, he didn't play like a starter.
Grade - D-
WR James McKnight - McKnight somehow finished the season with less catches than Thompson with 23 catches... He had one big TD run on a reverse but that's it.
Grade - D-
WR Chris Chambers - It was time for Chambers "Pro Bowl potential" as it is widely known to burst on to the scene. It didn't. Chambers is by far Miami's best WR and he is a very good player, but he disappears at times. He finished with only 963 yards on 64 catches with a very respectable number of 11 TDs. He was hurt by the change in QBs. All in all, he played OK, especially his scoring ability, but on the other hand we all know he can play much better too.
Grade - B+
TE Randy McMichael - He had 49 catches for 598 yards and 2 TDs. We expected a 50 catch season and we got it. His TD total was somewhat disapponiting. He is a great player and he played well at most times.
Grade - B+
RB The Dolphins have a very capable set of backs with Ricky and Konrad starting, they all had solid seasons. Grade - A-
RB Ricky Williams - Ricky is by far the best Dolphin RB in history and he is one of the best all around players in the NFL, no doubt about that. To expect another year like 2002 was unrealistic. He played behind a pretty bad O-line. With all the difficulties, the injuries at QB, the line, the unbalanced offense, Ricky still managed to run for 1,372 yards (2nd best in Dolphins history, 2nd only to his 2002 performance) albeit on 392 carries (only a 3.5 average). He scored 9 TD runs. Ricky also caught 50 balls (2nd on the team) for 351 yards and another TD.
Grade - A-
RB Travis Minor - He didn't get the ball much, running 41 times for 197 yards and scoring once. He played good in general.
Grade - B-
FB Rob Konrad - Konrad didn't touch the ball much, he played OK like usual, he is a solid FB.
Grade - B+
OL- Smith, Nails, Ruddy, Perry and Wade -
Grade - D-
The line was a mess. Dixon never made it on the field. Rookie LT Wade Smith had to start from day one. He struggled at times but he looked to be a solid player down the line. In fact, Smith is the only player returning next year. That tells you a lot about the line play. Ruddy's 10 year Dolphin run will end. Nails was way off his 2002 performance, maybe it was the injury and maybe not. Perry also wasn't very good. The line couldn't push anyone and the Dolphins will concetrate on redoing their line next year. Again the QB play didn't help, it never does. If a QB holds the ball too long the way Griese did the line looks bad and vice versa, when the line doesn't block the QB looks bad. In this case there is enough blame to go round.
The Defense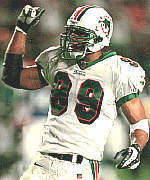 Defensive line - The D-line played well in general. The run stoping was as great as always and the ends had great years. They combined for 38.5 sacks. Taylor and Ogunleye had 28 between them. The rotation worked well and Zgonina played well aslo.
Grade - A-
DT Tim Bowens - The longest tenured Dolphin is the anchor of the line, perhaps the defense. It all starts with Tim-Bo. He had another solid year as always.
Grade - A-
DT Larry Chester - Bowens' partner inside the line played well against the run. He wasn't much of a factor against the pass, he doesn't play on third downs. In general he played well.
Grade - B+
DE Jason Taylor - Despite all the double teams and the increased attention he finished with 13 sacks. Taylor also plays very well against the run. Another super year for the super Taylor.
Grade - A-
DE Adewale Ogunleye - After getting 9.5 sacks in 2002 Ogunleye really played like a probowler in 2003. He was selected to start in the probowl. His 15 sacks led the AFC. Great season. Breakthrough season. Grade - A
DE Rob Burnett, Jeff Zgonina, David Bowens and Jay Williams - They combined for 8.5 sacks and played well in general. The Dolphins are very deep at the D-line position.
Grade - B+
LBs - They lost top rookie Moore in the preseason but they managed to play well. Thomas and Seau played together on a very solid unit.
Grade - B+
LB Zach Thomas - Zach was his usual self, going to another probowl. he played very well.
Grade - A-
LB Junior Seau - He showed everybody he still can play. He no longer is the player he was but he did play very well at times and was an upgrade over the departed Derrick Rogers.
Grade - B
LB Morlon Greenwood - He was more active than his first couple of years, we saw him making more big plays and getting involved in the action. It was a better season for him and he is on the upswing of his career now.
Grade - B-
Defensive backs - This was a solid unit that played very well all season. Surtain and Marion went to the probowl and Knight and Madison aren't that bad either.
Grade A-
S Sammy Knight - He had 3 INTs and played well for Arturo Freeman. He doesn't have the speed but somehow he is always around the ball.
Grade B
S Brock Marion - The heart and soul of the secondary. He slipped just a little but he is still a very good player and made the pro bowl because he deserved to. He also had 3 INTs.
Grade A-
CB Sam Madison - Madison played well. The spotlight is on Surtain but Madison is still a very good cvorner and he played like it. He didn't have the INTs like he did in the past and he may not be a probowler anymore but he is a shut down corner and played likewise.
Grade B+
CB Patrick Surtain - He had 7 INTs. He is not only a very good player, he could very well be the best defensive back in the NFL. He was that good, at times he took away half the field for the opposing offenese and he usually doesn't miss any tackles either. A great year for a great player. Was selected to the pro bowl as expected.
Grade A
Special teams
K Olindo Mare - You can say a lot of good things about Mare but a 2 million a year kicker shouldn't miss inside the 40 twice for a win against the Patriots. It's just unacceptable.
Grade D+
P Matt Turk - He played OK, although he wasn't great.
Grade C
Coverage Teams - The Dolphins had a solid year on their coverage teams.
Grade B
Return Teams -
The Dolphins haven't had a good return since Jeff Ogden returned a punt for a TD in 2000. They didn't score on a kick retun since the year Ronald Reagan left the white house (although Marion was very close with a 90+ yard return a few years ago) . Grade D
Coaching
Coaching staff -
The coaching staff is ultimately reponsible for the team's performance. Wannstedt bet on Thompson as a WR and it didn't work out, he also failed to sign a LT and then had to start a rookie.
The other positions on the line didn't play well either. The offense was bad and the QB play didn't help either. The Dolphins missed the playoffs and that's the bottome line.
On the other hand, they did win 10 games, not bad. Missing the playoffs was unfortuante because 10 wins will usually get you in.
But, Let's assume they would have made the playoffs as a wild card. It guarantees nothing. They would have been eliminated in the first week of the post season, 2nd week tops. The Dolphins need to win the division and have a bye week in order to get anywhere in the playoffs. They didn't get any closer last year and that's the bottom line.
They were unlucky at times (New England and Indy games) but they were also lucky at other opportunities (Washington game) so luck wasn't the problem, the offense and off-season acquisitions were. Grade D
MVP
Let's look at the candidates.
You have to consider Patrick Surtain, his 7 INTs and great game has become a regular occurence. He is perhaps the best corner in the NFL and he played very well last year. Zach Thomas and Jason Taylor also played very well and are valid choices. Ricky Williams didn't play as good as he did in 2002, but he did run for almost 1,400 yards... Another strong candidate is Adewale Ogunleye, his 15 sack season was great. He dominated his side of the line and changed the way plays were run.
At the end you have to come to a decision, I thought 2 players really stood out above the rest, Surtain and Ogunleye played very very well, they both are vaild contenders for the MVP, I am going to go with Adewale Ogunleye but it could have gone either way.
Now that you have read our 2003 summarry and saw dolphinsinfo.com 2003 MVP pick Let us know what you think. If you like we'll post your MVP selection or your comments on the 2003 season, so let us know what you think.