dolphinsinfo.com 2002 Season Summary
Grading the Dolphins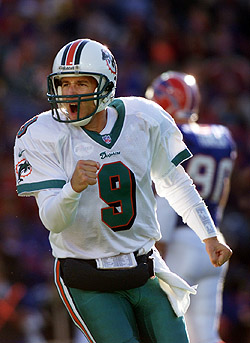 The Dolphins stared the 2002 season with great promise. After going 11-5 in back to back years the Dolphins went out and made the deal Dolphins' fans have been waiting for for years. Miami after more than 20 years had a legitimate running back. RB Ricky Williams is easily the best runner this team has had in 25 years and he could possibly turn out to be the best RB this franchise has ever had. Only time will tell.
The second big signing was of offensive coordinator Norv Turner. Turner has done wonders with other average offenses and with Williams and rookie sensation WR Chris Chambers the thought was Miami's offense will be better.
The defense was very good to begin with and so the Dolphins started the 2002 campaign with high hopes of reaching proffesional football's promise land - The Superbowl.
The injury to QB Jay Fiedler really hurt this team. By the end of the year, after leading the AFC from week one all the way to the last game and the last overtime of the season, and still missing the playoffs for the first time since 1996 was as dissappointing as any recent Dolphin season. Dolfans were left with a feeling much like the 1995 year, a good opportunity wasted. Unlike 1995 this team will probably have another chance next year. It's clear that the talent is there, as evident by an AFC best 6 Dolphins making the probowl, but the window of opportunity is as always in today's NFL closing. Can they understand how rare this opportunity was ? The Dolphins hadn't made the Superbowl since 1984 even though they had the best passer proffesional football has ever had for so long. Making the Superbowl is that difficult.
As evident from the 4 teams reaching the conference championship game betting one of the first two seeds in the playoffs is crucial. Miami could have done that by winning their last 2 games against teams that missed the playoffs the agonizing loss to the Vikings and the total meltdown in New England showed the Dolphins inability to win in the December strech. It is Miami's biggest challenge as we look ahead to 2003, We will not know that until December 2003...
Now let's get personal...
QB Jay Fielder - Well, at least now we know the team needs a healthy Jay Fiedler to win. It's clear Fiedler isn't the best QB in the league but he usually makes good decisions and he doesn't let mistakes get to him. He did lose the last two games of the season. He went 7-3 as the starter, winning percentages were never his problem as he is the NFL's winningest QB the past 3 years. He finished 179 of 292 for 2,024 yards, 14 TDs and 9 INTs for a decent rating of 85.2 (take out the Chiefs' 4 INT day and his TD to INT ratio was very good). The team couldn't win without him. It's a shame he didn't try more downfield passing to Chambers but sometimes that's how things pan out. The last two losses hurt though, he could have easily ended the regular season as an 9-1 starter leading his team deep into the playoffs... Grade - B+
WR

The WR position was supposed to be better. Gadsden was injured and Carter was sick and they just didn't improve on 2001. Chambers wasn't as dominant as everyone thought he should have been. Ward wasn't very good either. McKnight had an off year, the lowest being he was declared inactive, he did play better after Gadsden's injury. The Dolphins must and will improve their receiving corps in 2003. No question. Grade - D+
WR Oronde Gadsden - He was injured early. He had a below average year up to that point. He didn't even catch one TD...
Grade - C-
WR James McKnight - He hit rock bottom when he was inactive. He did play better at the end of the year, but he still fumbles and drops way too many passes. He finished the year with 29 catches (down from 55 in 2001) for 528 yards and 2 TDs. He did have one very long TD reception.
Grade - C+
WR Chris Chambers - It wasn't a bad year but his rookie year was much better. He was a starter and people treated him as such, he sometimes got double teamed but he did get his chances but couldn't deliver, especially deep. He is a very good WR and I am comfortable saying he will play better in 2003. He caught 52 balls (last year he had 48 as a backup) for 734 yards with a pedestrian 14.1 average and only 3 TDs after catching 7 as a rookie.
Grade - C
TE Randy McMichael - Miami;s biggest surprise. Last year we didn't even bother grading the TE position. He showed flashes of brilliance. He was voted rookie of the week twice. He played very well and the Dolphins will have a very good TE for years to come. His play tailed when Fiedler got injured and he never regained his early season form. He was third on the team with 39 receptions and 485 yards and he led the team with 4 TDs. A real steal in the 4th round. Easily, Miami's rookie of the year. He was voted as an alternate to the pro bowl and he is already one of the best TEs in the AFC.
Grade - A-
WR Dedric Ward - He played just like his title - 4th WR. Aside from a great catch setting up the FG for the win at Denver he didn't do much, catching only 19 passes for 172 yards and no TDs.
Grade - C-
RB It's all Williams, Sure Konrad had a good year, but does it really matter ? The Dolphins were looking for Williams for 20 years. They have a pro bowl RB, Would you beleive it a Dolphin pro bowl RB. Grade - A+
RB Ricky Williams - The single season rushing record of 1,258 yards stood for 24 years. 24 years. Ricky took his first crack at the record. It now stands high at 1,853 yards. Figures most Dolfans can't beleive they are true.
The Dolphins had two 1,000 yard seasons in more than 20 years, Ricky almost got two in one year, I mean One-thousand-EIGHT-hundred-and-fifty-three yards ! Ricky broke the season rushing record after carrying the ball for 383 times (franchise record) for 1,853 (no, still doesn't seem real) for a 4.8 (!) average and 16 TDs. Miami's RBs had usually averages near the 3.0 yard range and it took them a decade getting to 16 TDs (he also had a TD receiving).
Ricky also broke the team's best one game individual performance with a 228 yard game against the Bills and a 216 yard day against the Bears. He only carried once in the Bills' game 4th quarter because of the circumstances, if not for that he had a shot at Corey Dillion's NFL all time game mark of 278 yards.
Ricky became only the third back in NFL history to post back to back 200 yard games. He also had a franchise record 10 (!) 100 yard games. He finished the season with a 185 yard performance and now has 3 of Miami's top 4 regular season rushing performances, all in one year (no Dolphin ever rushed for 200 in a regular season game, Smith had 209 in a playoff game in 2000).
How good was he ? His 10 100 yard games rank him third in Dolphins history, CAREER. He is already third with only playing one season. He could hold the frachise carrer record (19-Csonka) by the end of his second year... He broke the previous single season rushing record by, mind you, 47 percent, and this is a record that stood for 24 years... He was sensational.
He was the first Dolphin ever to win the league rushing title and the first Dolphin RB voted to play in the pro bowl in 20 years. He did have a few unnesessary fumbles but it really doesn't matter. His season ranks in the top 10 all-time for NFL running backs. His contract clause of 2,000 yards in a season didn't look ridiculous at all. He had a 1,850 yard incentive in his contract, the lawyers probably thought it was unachievable. Guess what, he made it. It's a shame as good a season as he had and Miami wasted it by not reaching the playoffs, It's like the Marino story all over again. Williams will be back next year, you really can't expect that good of a season again, it's unfair, but who knows, we didn't expect this either. He was also second on the team with 47 receptions for 363 yards and a TD giving him 2216 total yards (yeah, yeah a franchise record)
1,853 yards, u-n-b-l-i-e-v-a-b-l-e.
Grade - A+
RB Travis Minor - He had an average year. His mistakes at the end of the year in the Pats game really hurt Miami. Ricky's season really didn't give much chances to anyone else and it shouldn't have. He carried 44 times for 180 yards and 2 TDs. Not bad.
Grade - C+
FB Rob Konrad - Another position we didn't grade last year. Konrad played very well. Turner's offense features the FB and TE and his ability to make plays showed. He is a fine blocker as well. He is a free agent and he played like a guy playing for a contract. He caught 34 balls (4th on the team) for 233 yards and 3 TDs.
Grade - B+
OL- Dixon, Nails, Ruddy, Perry and Wade - They played well most of the time. Dixon was injured for 4 games (Spriggs played for him). Nails was lost at the end of the season and didn't play in the 2 games when Miami collapsed at the end of the year. Nails was the biggest surprise and the best linemen. He was voted as an alternate to play in the probowl and in general he played very well. The line did a good job. I still think the RB makes the line more than the other way around but Ricky got help and Jay was rarely sacked. Good year. Rookie Seath McKinney got to play at the end for Nails and he showed he can play at this level.
Grade - B
The Defense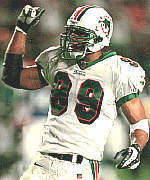 Defensive line - Great year for the line, solid play all around.
Grade - A-
DT Tim Bowens - Another quiet and solid year for Bowens. He made his second probowl and deservingly so. He was rock solid at the middle of the line.
Grade - A-
DT Larry Chester - Bowens' new line partner played very well against the run. He lived up to the expectations as Miami's line played well all season long.
Grade - B
DE Jason Taylor - 18.5 sacks. He was second on the NFL's defensive MVP list. He led the league in sacks tieing Bill Stanfill's franchise sack record. He was also great against the run. Taylor was voted as a starter to his 2nd pro bowl.
Grade - A+
DE Adewale Ogunleye - A very nice surprise. He won the open competition for the starting position opposite Taylor with 8 sacks in the pre-season. He played very well all year. He finished the season with an impressive total of 9.5 sacks. He also played well against the run. Huge surprise.
Grade - A-
DE Rob Burnett and Jay Williams - If not for Ogunleye's play both could have been nice solid starters for Miami. They combined for 10 sacks and in general played very well. Burnett is well known around the league and his good play and 4 sacks were not a surprise. Williams was less known. Miami signed him when they released Gardener and gave up a 4th round selection. He turned out to be worth the pick with a solid year and 6 sacks.
Grade - B+
LBs - The Dolphins will probably make a change in their LB corps and try to upgrade, at least at Rogers' position. Aside from Zach, they were average at best.
Grade - B-
LB Zach Thomas - The usual Zach, another great year, a million tackles. He is worth every penny spent. He is the most consistent player in Miami. He made another pro bowl (as a starter).
Grade - A-
LB Derrick Rogers - His days with Miami are numbered. Aside from his legal problem his name was hardly mentioned. The OLB spot in Miami's scheme is not the focal point of the defense but still he lacked big plays. His cap number is too high for the team to keep him.
Grade - C-
LB Morlon Greenwood - As with Rogers he didn't make enough big plays. His second year was better than the first, but LB is not a very difficult position to learn coming out of college. He will be challenged next year.
Grade - C
Defensive backs - Another solid year for Miami. Two pro bowl selections (and one alternate). They were once again one of the better units in the league. They did slip in the Bills' game and in the collapse at the end of the last game. Fletcher's credit is up. It's perform or you are out time for him in 2003. The Dolphins have had trouble signing CBs because players usually go to a play where they have at least a remote chance of starting which is not the case in Miami.
Grade A-
S Arturo Freeman - He had an OK year. Starting for his first time, he had an up and down season. At times he looked solid and at times he got burned.
Grade C+
S Brock Marion - The 2001 dolphinsinfo.com MVP had another big year, making his second pro bowl. He is the secondary's QB and a good one at that. He makes a lot of saving tackles when he is the last defender between the opponet and the goal line. Solid tackler. He had 5 INTs.
Grade A
CB Sam Madison - a dissapointing season by his standards. He continues to slip. He missed the pro bowl for the first time in 3 years. He got burned by Bills' WR Eric Moulds (Moulds is a very good WR). But, he is still a very good player. His INT totals are still far away from his 5-8 INT days just 2 seasons ago. He finished 2002 with only 3 INTs.
Grade B-
CB Patrick Surtain - The secondary's MVP. A huge season with 6 INTs (1 TD) and a starting position in the pro bowl (oddly enough taking Madison's place). He is only the second Dolphin CB ever to go to the pro bowl (Madison was the first). A breakout season for him. Huge year.
Grade A
Special teams
K Olindo Mare - An off year, to say the least. He only made 24 of 31 FGs. Missed in the crucial final game at New England and managed to kickoff the OT in New England with the entire season on the line - out of bounds giving the Pats the ball at the 40 and an easy chance for a game winning (season ending for Miami) FG try. It's not like he is a bad kicker, he is not, he's very good but he is the highest paid Kicker in history, making 2 million a year, I mean two million ? (more than 64 thousand dollars a FG attempt...). He should be 90 percent from inside 57 for 2 million. The out-of-bounds kick was inexcusable.
Grade D
P Mark Royals - The Dolphins weren't willing to pay the salary Matt Turk wanted and they went out and paid the average punter salary, that's exactly what they got. Royals was average, at best. Miami likes his directional, although his 23 yard punt in Miami's crucial game at New England (late in the 4th quarter giving the Pats the opportunity to tie the game and send it to OT) possibly directed Miami out of the playoffs... He will probably be back because of his directional punting skills. He is a very experienced punter. I wouldn't be shocked if he is challenged in training camp that's for sure.
Grade C
Coverage Teams - This is not the team's problem. Backup LB Tommy Hendricks should have been considered for the pro bowl with his play. The coverage play was solid.
Grade B
Return Teams - It's time for the Dolphins to go out and get a top notch returner. Miami's return game was below average. Minor had a 66 yard kickoff return, but I wouldn't call the hall of fame just yet. The punt return game was a mess Ward, AJ Johnson and Baker shared duties. Johnson was OK but got injured. Baker was also OK but neither of them looked like the Jets' Santana Moss. I wouldn't be surprised if Miami brings a returner to camp, even drafting one.
Grade D+
Coaching
Coaching staff - A very dissapointing season. How this talented laden team can go 9-7 and miss the playoffs is beyond me. With the NFL's rushing leader, sack leader and 6 pro bowl selections to miss the playoffs.
Sure Fiedler missed 6 games, but still the collapse against the Vikings and Patriots at the end when Miami was in such a good position entering the post season was just bad.
Wannstedt looked so solid entering this season and by the end people wanted to fire him. I don't think the Dolphins should make a coaching change, but another year like that and...
Wannstedt deserves a lot of credit for bringing Ricky Williams to Miami.
It was just a wasted year, with all the great things that happened - Ricky's year and Taylor's year, the Dolphins should have done a lot, a lot, better.
Grade D
MVP
Let's look at the candidates.
I've narrowed it down to 4 - Patrick Surtain had 6 INTs and a starting position in the pro bowl. He took Madison's place as the Dolphins best CB. Great year no question, but he wasn't better than the top two candidates. The same could be said for Zach Thomas. He will join Surtain in the pro bowls's starting lineup and he had a great year but still, both Zach and Surtain fall short compared to the top two candidates.
So it comes down to two candidates. Pretty obvious, DE Jason Taylor (18.5 sacks, pro bowl starter) and Ricky Williams. I'll start with Taylor. Taylor had a huge year, I mean 18.5 sacks... At times he looked unstoppable. Teams had to double team him constantly, sometimes even triple team him, it helped the other players on the line and made them much better. He came close to being the NFL's defnsive MVP (finishing 2nd) and a good case can be made for his selection. He was, by far, the best linemen in football, no doubt about it. In every normal year Taylor was a walk-in MVP. But not this year. This year he comes up short. It doesn't say much about him, it says much about the team's MVP.
All of that and much more is why RICKY WILLIAMS is the 2002 dolphinsinfo.com Dolphin MVP
RB Ricky Williams changed the Dolphins. The pass happy Dolphins of the Marino age are definitly gone forever. Williams was unstoppable, the numbers he put up were not only unbelievable in Miami standards but were great in any standard.
Everybody knew he was getting the ball and he still managed constant 8-10 yard runs. He broke long runs of 63, 55, 53, 45 and 37 yards (so much for not having big plays in New Orleans).
You could feel the exitment every time he touched the ball, he was a constant threat to take it the distance. He lost weight in the off season and he looked like in his colllege days as far as his speed was concerned. He has another gear, especially when he breaks to the outside.
His power was never in question and he used it to run all over defenders and carry a few of them with him when needed. He scored 17 TDs (16 rushing) and on some of them he just took defenders along on the ride. His quick moves took everyone by surprise (Charger S Rodney Harrison still can't understand the move he put on him).
He was just what Miami ordered and so much more. The two first round picks gave up to acquire Ricky look like bargain price now.
His stat line was franchise records across the board 383 carries for 1,853 yards and 16 rushing TDs - all franchise records. His 4.8 yards per carry average was unreal. Miami didn't have a 4.0 RB in years. He also broke the record for regular season attempts in a game at 36 and the individual record for most yards in a game. He had 228, (224 of them by the end of the third quarter, he carried only once in the 4th because the Dolphins were behind). He finished the year with 3 of Miami's top 4 rushing performances ever (228, 216 and 185 - the previous record was 197). He had a franchise record 5 straight 100 yard games. He finished the season with a franchise record 10 100 yard games.
But the numbers aren't the only reason, Ricky gave the Dolphins what they were starving for for so long, the Dolphins were looking for a star RB for 25 years. They have spent countless draft picks including 4 first rounders (Sammie Smith, Lorenzo Hampton, John Avery and the late David Overstreet to name a few). Ricky Williams went for quarters with 8-10 yard carries on every attempt. Dolfans watching this year were most of the time in disbelief.
Now that you have read our 2002 summarry and saw dolphinsinfo.com 2002 MVP pick Let us know what you think. If you like we'll post your MVP selection or your comments on the 2002 season, so let us know what you think.