dolphinsinfo.com 2001 Season Summary
Grading the Dolphins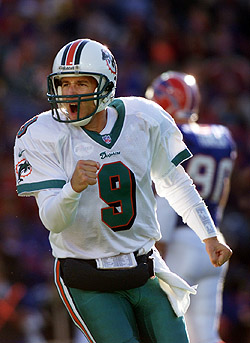 The Dolphins were supposed to improve during the 2001 season. They didn't, although they did stay in their level advancing to an NFL best 5 straight playoffs.
This year the Dolphins were knocked out of the playoffs by the Ravens in the wildcard game. The defense played pretty well finishing 5th in the league although injuries and poor play at the end of the season cost the team a better chance in the playoffs.
The run defense wasn't that good and it allowed other teams to control the clock and beat the Dolphins. As in the past, the Dolphins managed to win all of its games against non playoff teams. A good team can not afford to lose those games but Miami must make the next step and start winning the important games. In recent years it lookes as if the team just can't win the big game late in the season (This year it was the New England game). In today's NFL every game counts. The Dolphins lost their division title only by a tie break with New England.
The tie break loss was because the Dolphins still can't find a way to beat the Jets. The Jets winning streak against Miami was extended to 8 games this season. The Dolphins were 11-5 again and it's a good record but The Superbowl champions Patriots (still doesn't sound real...) showed the entire NFL what everybody already knows that a team with the momentum late in the season is the team that goes deep in the playoffs. New England won 8 straight games before the superbowl and 13 of its last 15 games. Those were the same Patriots that lost 30-10 in Miami.

The injuries, especially on both sides of the line really hurt the Dolphins and it's not as if the Dolphins had a great O-line to begin with. Now let's get personal...

QB Jay Fielder - Fiedler starting his second season did play better than in his first year. He was at times hot and cold and threw bad INTs to go along with great passes but his consistency hurt the Dolphins. His final stats were 273 completions out of 450 attempts (60.7 percent) for 3,290 yards 20 TDs and 19 INTs which comes out to be a rating of 80.3. His INTs were way high and that's something he needs to improve. He did play better at the end of the year cutting down his INTs. It looks as if Fiedler and Chambers could be a winning combination for Miami next year. Grade - B-

WR
The Dolphins came into the 2001 season with the need to improve their receivers. They did do that ? probably, but only because of Chambers. Chris Chambers voted for 3rd place in the NFL's rookie of the year voting, was a great draft choice. He looks like the real deal. But the 2 free agents didn't do much. Ward caught some nice passes but injuries limited his role. McKnight came in as a starter but dropped a lot of balls and for all his speed he finished the season with a pedestrian average of just over 12 yards a reception. The TEs weren't involved in the passing game but that could change next year with the addition of offensive coordiantor Norv Turner.
Grade - C+

WR Oronde Gadsden - He caught 55 passes for 674 yards (12.3 average) but only 3 TDs. He is a great possesion receiver that can drag defenders with him. He had surgery after the season and his injuries could shorten his career. The 55 catches were a career high.
Grade - C+

WR James McKnight - He, like Gadsden, caught 55 passes. The receptions added up to 684 yards (12.4 average) and only 3 TDs. His drop on a sure long TD in the wildcard game was a joke. He was inconsistent and wasn't the WR we all thought he would be when he was signed as a free agent. He was supposed to have deep speed but ended up having a TE-type 12.4 avarage. To be honest there were times I didn't understand why he was starting instead of Chambers (and the same goes for Gadsden).
Grade - C-

WR Chris Chambers - Wow, Great year for the rookie. He finished 3rd for the offensive rookie of the year award, a rare thing when it comes to rookie WRs. He was by far the best rookie WR in the league despite not starting. He had huge plays and the best average per catch (among all players in the league that had a minimum number of catches) in the league and he didn't show the drops that people said he had before the draft (I read it in an NFL preview magazine, then again it had the Patriots finishing 5th in the AFC east...). His second round pick was a steal, and it was woth moving up for in the draft. One preview magazine (Linsay's) wrote before the season "Amazing athlete, will be a starter before the 2002 season, he's that good" - Well done. Chambers finished the season with 48 catches for 883 yards (18.4 yards a catch) and 7 TDs.
Grade - A-

RB The running game was a disaster, One of the Dolphins first priorities in the off season is upgrading its running game, that means OL and RBs, so it really tells you a lot about the running game. Altough a big part could be attributed to the OL, the RBs had much to be blamed for. The FBs were invisible but there is a good chance they will be involved more next year in Norv Turner's offense. Minor was a good rookie that contributed but he wasn't a featured back type player. Former starter JJ Johnson is on his way out. Starter Lamar Smith after having a great year in 2000 played pretty badly in 2001. His drop from a 1,139 yard rusher to 968 with a 3.1 (!!!) yard average was huge. Grade - D-

RB Lamar Smith - Lamar Smith carried the ball 313 times for just 968 yards and a 3.1 yard per carry average. He scored 6 TDs. He had a 3.7 average and 14 TDs in 2000. A 4.0 yard per carry average is the average in the NFL. 3.7 is below average and 3.1 is just bench. At times Smith looked like so many Dolphin backs in the past in the Marino days. His grade last year was an A- and he was dolphinsinfo.com Dolphin MVP, what a drop.
Grade - D

RB Travis Minor - He had a decent year. He rushed 59 times for 281 yards (4.8 yard average) and 2 TDs. He was used in most of the caeses as a third down back and a change of pace runner to Smith. Minor has great speed.
Grade - C+

OL- Folau, Dixon (Irwin), Ruddy, Perry and Wade - The running game was a disaster. The pass blocking wasn't bad. LT Brent Smith was lost in pre season to injury and his replacement Marcus Springgs was injured for the year in the first game of the season. Folau started the year at LT. Wade also misssed time and he was replaced by now retired RT Harry Swayne. Dixon also missed time and was replaced by Heath Irwin. The injuries really hurt the team. But even when they played with realtive health they weren't that good and it showed in the running game. Lamar Smith can't gain any yards when he has to dance against defenders before he gets back to the line of scrimmage. Heck, at time, Eric Dickerson and Walter Payton couldn't run with this line.
Grade - D

The Defense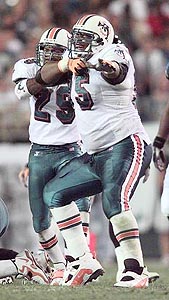 Defensive line It started out pretty well, but when Gardener went down the line started falling apart in the run defense. Both Mixon and Bromell are free agents. The injury to Gardeenr forced the team to go with Haley and Grant at DT. They played well but they aren't in Gardener's class. The pass rush really suffered from the departure of Trace Armstrong. Taylor was often double teamed and Mixon didn't get to the QB. Bromell finishd with 6.5 sacks and free agent signee David Bowens looked at times pretty good. In 2000 it was one of the best units in the NFL but it drpped a notch in 2001 although it still played very well.
Grade - B
DT Tim Bowens - Bowens is a great player. At times he took over a game and won it by himself. He dominated the line. But he is in his 8th season and he probably won't get better in time. At times he looked like he is not playing up to its full potential. He had 2.5 sacks.
Grade - B
DT Daryl Gardener - He had a geart year but he was injured and his chronic back problems could jeoperdise his career. Up to the injury he had 4 sacks. In the New England home game he completely dominated the line stopping the Pats offense, Tom Brady and Antoine Smith. In the second New England game he was already injured and Smith ran wild and gave the Patriots the AFC east crown.
Grade - B+
DE Jason Taylor - He had a good year causing trouble for opposing lines. He was double teamed more often with Armstrong gone. He finished the year with 9 sacks,a drop from his career year 14.5 sack total in 2000. He also had 1 INT.
Grade - A-
DE Kenny Mixon - He was quite all season and didn't put much pressure on the QB, finishing with 2 sacks. He had a 56 yard INT return for a TD.
Grade - C+
DE Lorenzo Bromell - The Dolphins pass rush specialist is a free agent and it's not sure if he will return to the team in 2002. He had 6.5 sacks, second on the team, but he still didn't get to his rookie record of 8 sacks.
Grade - B+
DT Jermaine Haley and Earnest Grant - They were both called upon to replace Gardener. Both of them played well. They can probably start for a lot of other teams. They also contributed a half a sack each.
Grade - C+
LBs The LBs had an up and down year. Rogers was injured and was replaced by Galyon. Hendricks played for Thomas and Greenwood took over the starting postion from Twan Russell. They were good at times but are also responsible for the Dolphins late year run-stopping poor play.
Grade - B
LB Zach Thomas - his usual self. Thomas was voted to play in the probowl again this year (3rd straight). Aside from his million tackles he also had 3 sacks, 2 INTs and one TD.
Grade - A-
LB Derrick Rogers - A good year for Rogers. He was injured and missed the last part of the season but he will be back and feeling fine next year. He is an unspectacular LB but he's a solid player.
Grade - B+
LB Morlon Greenwood - The rookie 3rd round pick took over, as expected, the starting LB position vacated by the departured Robert Jones. At times he looked confused and well, rookie-like. Greenwood got better as the season went on and he looks like a fine player that is only going to get better next year. Fine rookie season.
Grade - B-
Defensive backs - Despite the Rams game debacle, The secondary was great and they finished the season as the number one pass defense in the league. They are the best secondary in the league and they played likewise. Terry Cousin as the nickel back was a pleasent surprise and Jamar Fletcher is expected to take the nickel back position next year. Fletcher did see playing time and even started for an injured Madsion. S Arturo Freeman also played well.
Grade A
S Brian Walker - An off year for Walker after grabbing 7 INTs in 2000 he had only 1 in 2001.
Grade C+
S Brock Marion - Great year for Marion. I can't figure out why he didn't make the pro bowl again in 2001 (he was voted as an alternate). He had his usual million tackles and he finished the year strong. He led the team with 5 INTs and he returned two of them for TDs. He achieved that even though he is playing with CB Madison and Surtain, not an easy task. He also had 5 INTs in 2000. The team will either re-structure his cap unfriendly deal or release him and hope they can sign him back for a reasonable amount of money. That gamble worked last year, I'm not so sure it will work again. I hope he comes back in 2002. Great year for a great player.
Grade A
CB Sam Madison - Another year and another pro bowl start (3 straight). Teams avoid throwing at him. He was injured but came back. It's a shame the Dolphins didn't let the safeties go help the run support because he is really a shut down corner. Certainly in the top 5 in the NFL. He had only 2 INTs but a part of that is teams trying to avoid throwing at him.
Grade A-
CB Patrick Surtain - Surtain had a good year. He was beat at times, but that happens to any CB. He was burned in the wildcard game but he is still s great player that had a great year in 2001. The only reason teams are still throwing at him is that Madison is on the other side. He had 3 INTs returning one of them for a TD.
Grade B+
Special teams
K Olindo Mare - A usual year for Mare. He didn't attempt a lot of FGs but when he did he almost never missed. He was 19 of 21 in FGs in 2001. His kickoffs were solid as well
Grade A
P Matt Turk - A very good year for Turk. He punted the ball very well for the Dolphins and was a good player in this always overlooked position.
Grade A-
Coverage Teams - They had a good year. No huge returns on them in 2001. The imprtance of coverage teams was showed in the AFC championship game when the Pats defeated the Steelers by 7 points in a game the Pats returned a punt for a TD and returned a blocked FG for another TD.
Grade B
Return teams - Nothing to write home about. Chambers will be remembered for his WR play and not his return skills. Chambers had a 22.5 yard average on kickoffs while Marion had a 21.8 yard average. Ogden was OK with an 11.8 yard average on 32 punt returns.
Grade C+
Coaching
Coaching staff - Their offense is still very conservative. Sometimes you can look at them play and guess what they will do. The Dolphins did manage an 11-5 record and made the playoffs again. They also beat all the inferior teams which is a sign of good coaching. However, they still can't win the big and important game (New England for example), they can't beat the Jets and the coaching staff still can't figure out a way to get momentum in the last stages of the year. They weren't at their best at the end of the year and that's the hole idea.
Grade B
MVP
Well, it's the end of our 2001 season summary and it's time to choose the 2001 dolphinsinfo.com Dolphin MVP. Looking back at the 1999 selection (Olindo Mare) and the 2000 selection (Lamar Smith) you realize that I try to pick the most deserving pick and not necessaraly the best player on the team.
Let's look at the candidates. I've narrowed it down to 5. The 3 usual candidates are Jason Taylor, Zach Thomas and Sam Madison.
Madison dropped form 8 INTs in 1999 to 7 in 2000 to only 2 in 2001. He was deservingly so selected to his 3rd straight pro bowl but he didn't have an oustanding year. He played very well but that is expected of a 50 million dollar player.
The same goes for Taylor. He has a huge salary of 6-7 million per year, with that type of salary there are some expectations because its cap number prevents the team from signing other players. His 9 sacks are a little misleading because he harrased opposing defenses all year. I think he wasn't voted to the pro bowl because people look at sack numbers (same goes for Gardener) and he dropped form 14.5 to 9.
Thomas was his usual self and he is always very deserving of an MVP. It wasn't his best year but it certainly was one of his best. He also gets a lot of money. He finished second as far as MVP goes.
The other two candidates are rookie sensation WR Chris Chambers and pro bowl safety Brock Marion. WR Chambers had a great year. He didn't catch a lot of balls (48) but he did have 883 yards and 7 TDs. The reason I chose Smith last year is because he gave the Dolphins something they didn't have for years, a running game, the same goes for Chambers. The Dolphins didn't have a legitimate deep threat in years. Fryar and Duper could do anything (Clayton was more a possesion WR) but those days are long gone. Martin was a flop (and do you remember Charles Jordan ?). Chambers gives this team a legitimate deep threat and a great WR for a long while. On the down side he caught only 48 passes didn't get to 1,000 yards (or 900 for that matter) and was a backup. In 2000 Armstrong was a great player but selecting a backup as an MVP ?
So we are left with one candidate. I know everbody probably disagrees with the choice, but, I beleive that safety Brock Marion is the most deserving player for the dolphinsinfo.com MVP award. He played at a very high level all year long. He is the leader of the number 1 ranked secondary in the NFL and he is the most underated player on the team. The Dolphins got all that, at a pro bowl level, for a few hundred thousand dollars, about a quarter the salary of their kicker. If you look at production per dollar (or production per cap dollar) and Marion is probably one of the most efficient players in the NFL. He had 5 INTs, leading the team. He returned 2 INTs for a TD and one of them was a rare 100 yard return. He also returned kickoffs in 2001.
All of that and much more is why BROCK MARION is the 2001 dolphinsinfo.com Dolphin MVP
Now that you have read our 2001 summarry and saw our 2001 MVP pick Let us know what you think. If you like we'll post your MVP selection or your comments on the 2001 season, so let us know what you think.