dolphinsinfo.com 2000 Season Summary
2000 was the season of change for the Miami Dolphins. The first post Marino year marked a chnage and a new Dolphins team that dolfans never saw. The Dolphins ranked near the bottom of the league in offense, especially in passing offense, something that didn't happen in the 17 Marino years. The Dolphins also had a legitimate running game with an unexpected star RB in Lamar Smith. His 1100+ yards were the most by a Dolphin since the franchise record was established in 1978.
The Dolphins WRs didn't have a good season and without Marino they were exposed to what they really are, a few possesion receivers with average talent league wise.
The OL marked the first serious rookie OL since Webb-Simms arrived in 1990. Todd Wade was a soilid rookie at RT and baring an injury will be a constant at the RT spot for the next few years.
Fiedler started the season OK but by the end of the season he was awful costing the Dolphins crucial games and preventing Miami from having a first week bye. If they had landed the first week bye they should have had a decent chance against the Ravens because Miami is built similar to the Ravens and they have beaten the Ravens last year. Fiedler rarely passed for more than 150 yards, something Miami fans aren't used to because a sub 200 yard game for Dan was a bad game.
Despite the new head coach, an esentially backup QB replacing the most prolific passer in NFL history and a Dolphin legend and with a journeyman RB the Dolphins managed to win their division and make it to the second round of the playoffs, a place where they have stalled in each of the past 3 years.
Coach Wannstedt did a fine job his first year and Miami won close and 'easy to lose' games in route to an 11-5 record.
I have graded the main players at each position the others weren't that dominant.
Grading the Dolphins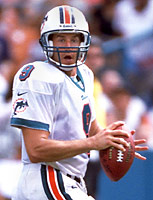 QB As I said in my 1999 summary you don't have to have a great QB in order to win the superbowl. Mark Rypien, Doug Williams, Jeff Hosttetler won superbowls and this year we have added perhaps the worst QB that ever won the big one. Trent Dilfer is just not a very good QB and the Ravens know it and they signed Kansas city's Elvis Grbac to replace him. A very strange thing considering Dilfer did win the Superbowl. Baltimore has a great defense and a soilid running game, I don't want to say I told you so but I did...
Now to get personal :
Jay Fielder - Nothing was expected from Fiedler and at the begining he played pretty well, especially at the begining of the game. He had to learn Gailey's system as the year went along. To his credit he didn't have any good WRs OJ was hurt all season, Gadsden is Gadsden he can catch almost everything but he has pedestrian speed and can't really strech the defense and Martin was a shadow of himself. Fiedler did manage to make a few plays with his legs but ultimatley I think a QB has to throw the ball. Fiedler didn't throw it that good especially at the end. his stats - 204 of 357 for 2402 yards 14TDs, 14 INTs and a 74.5 QB rating. D+
Damon Huard - Huard played in two games with one start he did have a good game against the Colts but was awful against the Jets. He is a backup QB and can have an occasional - don't hurt the team- kind of game. he can also win a few games for you but not much more than that. He started the season as the starter but lost his place to Fiedler. Between Miami's 3 QBs there isn't a starting caliber QB, not yet anyway. Huard had a 60.2 QB rating. D+
WR The Dolphins have a below average group of WRs, there is no doubt about that. They don't have speed and Martin is well beyond his prime. The Dolphins will need to sign/draft WRs heading into next year and I think it says a lot about this group. They are esentially possesion receivers which will be a good 3rd WRs on many teams.
Tony Martin - Martin had a bad season, lost his starting job, managed to be injured and then to regain his position in the starting lineup. He is well beyond his prime and can't strech the defense like he used to. The fact that a guy named Fiedler replaced a legendary hall of fame QB didn't help either. Martin caught 26 balls for 393 yards with no TDs. D-
O.J Mcduffie - Bad year for OJ (second in a row). He was injured most of the year and only at the last games of the season managaed to get back to his old 'Can catch everything' routine. He was inconsistent. He managed to catch a one handed ball in the Indy playoff game and then drop a pass between his hands, which is very unOJ like. He finished with 14 receptions for 143 yards and no TDs. Next year will be the make or break season for OJ D
Oronde Gadsden - He had a decent year leading (if that's the right word) the Dolphins in receptions and yards. The only fixture on Miami's starting lineup. Oronde can catch everything but he doesn't have any speed and his injuries won't give him a long career. He did manage to have a carrer high 56 receptions for 786 yards and 6 TDs. B
Leslie Shepherd - The pleasent surprise of the group last year, he signed in June and some didn't think he will make the week 1 roster, He came in as the sixth WR but he quickly became Fiedler's favorite WR. He started a few games and his injury late in the season hurt the Dolphins. He finished second on the team with 35 receptions for 446 yards and 4 TDs. He is a 3rd WR kind of guy and he played that role pretty well. B
Weaver/Goodwin - The TE position didn't play a major role in Gailey's offense and both TEs didn't do much in the passing game. No grade possible
RB The Miami Dolphins had a running game, I repeat, the Miami Dolphins had a running game. They didn't have an Eric Dickerson type year but they managed to have a RB that ran for 1139 yards. Lamar Smith emerged as the improbable starter out of training camp and had a good year. His average wasn't very good at 3.7 but the team was finnaly out of the bottom 5 in running in the league.
Lamar Smith - 309 rushes for 1139 yards and 14 TDs with a 3.7 yard average are decent numbers in the NFL (although 3.7 is low) but in Miami terms it's huge. Lamar was the biggest surprise in the 2000 season and he rushed for over 200 yards in the wild card game, essentially winning it for the Dolphins. A-
JJ Johnson - He lost his job and was an OK backup, not more than that. Ran 50 times for 168 yards and 1 TD D
Rob Konrad - Konrad played better. He blocked well and we know he can catch although he caught only 14 balls in 2000. He is a fine FB. C+
OL (Webb, Dixon, Ruddy, Donnaley, and Wade) You know what I think of Miami's OL (not very good) but they made big strides last year. Wade turned out to be a top 15 draft pick not a second rounder, I honestly think Wannstedt made a super draft pick in Todd Wade. Ruddy also played better and Dixon was good also. To my surprise Webb played pretty well. Todd Wade was the big addition to this group and he manged to win the offensive rookie of the month award this year, he played well all year long. He did give up a few sacks but that's to be expected from a rookie. Miami has a solid RT for the future.
Webb played OK on the other side, he is obviously well passed his prime but he can give a team a solid starter at the much needed LT position.
Ruddy made the probowl because of injuries. With OL it's harder to make the probowl because a lot goes on your name and you sometimes get the honor only after you have established a name. Dixon was his old self. Donnalley was cut, resigned and named starter. He won't be back next year, but he is capable of being a starter in the NFL. Heath Irwin was the free agent bust. Miami brought him to start but he didn't play well and never got into the starting lineup. B-
DL They had a good year. Armstrong and Taylor started in the probowl. Gardener and Bowens played good and Haley emerged as a player that can help the team. Owens was obviously the dissappointment, Bromell also. This is a good unit. Even without Armstrong and Owens. There are a lot of positions that are much more in need of help.
Darryl Gardener - Good year for him. He must continue to improve in passing situations although in obviouds passing downs he is not always in there. He was injured but all in all he played well. He did have only 2.5 sacks. B+
Tim Bowens - Once a probowler now the guy besides Gardener. He is a very good player and he plays that way. Had 2.5 sacks and 1 INT. B
Kenny Mixon - Got his starting position again. Like always a good run stopper but he doesn't pressure the QB much. He had 2.5 sacks and that's not much from the starting DE position. C+
Trace Armstrong - Brilliant year. Made his first probowl as a starter even though he didn't start for Miami. Finished second in the NFL with a career high 16.5 sacks. A shame he won't return. A
Rich Owens - Bad year he lead the DL in tackles in 1999 and lead the team in sacks in 1999 but was inactive most of the year and finished with 0.5 sacks. I still think he is a good player. D-
Jason Taylor - Finnaly a good year from Taylor. I always thought he was overrated, He played like the star that he is in 2000. He changed the outcome of games with big plays and he started in the probowl. He had 14.5 sacks, an INT and a TD. A
Lorenzo Bromell - Another disappointment, went from 8 sacks as a rookie to 5 in 1999 and 2 this year. With the departure of Armstrong he should get more playing time and can improve in 2001. D-
Jermaine Haley - A pleasent surprise, started a few games when Bowens and Gardener were injured and had 1.5 sacks. Played well and proved that Miami has a quality backup DT. B-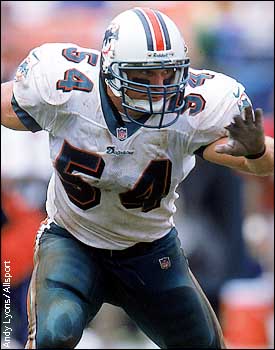 LB I am sorry to have to disappoint you, but I don't think they were that good. Teams ran pretty good against the Dolphins this year. The LBs didn't produce many sacks (2 for all 3 starters ).
Zach Thomas - He was his usuall self, he was named to the pro bowl as a need player. Zach had 1.5 sacks and 1 INT. Made his now routine million tackles. A-
Robert Jones - He had a disappointing season without registering a single sack or INT. We didn't hear his name in most games and Miami will probably replace him next year. D+
Derrick Rogers - He had a good year especially in the second half of the year. He did a solid job in the passing game and he did play better then last year. The good news is that Rogers should get better next year. B-
Secondary They were good. Very good. They combined for 25 INTs. Madison and Surtain are probably the best duo in the league. If not the best in the top 2 or 3. the Dolphins did have a problem with the third CB. Terrance Shaw did dissapoint a little.
Sam Madison - He made his now routine trip to the pro bowl. He managed 5 INTs even though most teams tried to throw away from him. He is in the top 5 CBs in the league and he plays acoordingly. 2000 was no exception. A-
Patrick Surtain - It won't be a far fetched story if Surtain will one day take Madison off the probowl roster. He played very well and he had 5 INTs. He emerged as a brilliant CB and will probably (baring an injury) be at the top of his game in 2001. A-
Brian Walker - Brilliant year. Started at safety and was probably one of the most dominant players on the team. Led the team with 7 INTs. He did play very well and it was a surprise because he was the unsure part of the secondary. A-
Terrance Shaw - He was injured and dissappointed. He came in as a starting caliber CB and didn't play like one. He did grab 1 INT. D+
Brock Marion - I have said it before I think he is underrated and I think he is a very good player. He was voted to the probowl for the first time and he had 5 INTs. He made his usual million tackles and he is always there to stop someone and prevent a big play. A-
Special teams
Oildo Mare - Another solid year for one of the league's best kickers. B+
Matt Turk - The Dolphins traded for Turk last offseason. He was sometimes inconsistent but he managed to have a decent year. C
Marion and Denson - Nothing to write home about, don't expect either one to go to the pro bowl as a returned anythime soon. C+
Jeff Ogden - He was critisized for not returning returnable kicks. He played well and had a brilliant 81 yard punt return for a TD against the Packers. I was lucky enough to witness the 81 yard return in person. B+
Coverage unit - Everybody thinks they are a very good unit and the Dolphins rank high in opponets field position category. Special teamer Larry Izzo went to the probowl as a special teams player. At least they didn't give up 2 TDs like last year. B
Coaching Coaching is measured by results. Miami didn't have a great team because of a lack in offensive talent. At the beginig of the year I would have grabbed an 11-5 record, division crown and a second round playoff game. They were also one win away from a first round bye and who knows what would have happened in that scenario. Late in the season they were in charge of their own destiny. I thought they lost the season when they failed to get a bye and a 2nd round home game. Wannstedet did a good job, no question about it. B+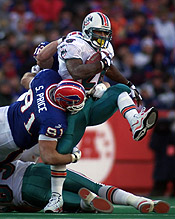 MVP
It came down to 4 candidates. The secondary played well and 2 out of the 4 starters went to the probowl.
Trace Armstrong had a brilliant year with 16.5 sacks but choosing a backup as an MVP...
DE Jason Taylor had a career year and he would have been a fine MVP, no question.
BUT, something happend in 2000 that hasn't been seen in Miami since the early 70s. Miami had a running game. It wasn't the best in the AFC or even in the top 3, but in Miami terms it was huge. His 3.7 yards per carry was well below average and he wasn't even close to being considered for the pro bowl but he finished with 14 TDs and 1139 yards and gave Miami fans something to look for when the QB handed the ball. Instead of the usuall 'what the heck are they doing' or Marino lifting his hands with frustration whenever a RB would run for a half yard, Miami had good plays out of the running back position.
The only thing that leaves us with a bad feeling is WHERE THE HELL WERE YOU LAMAR SMITH THE PAST 17 YEARS ?