Dolphins vs Titans home game Summary

9/24/06

Grading the Dolphins

QB Culpepper played a little better but the lack of mobility is showing, he, at times did not finish throws but he was pretty accurate in the short passes. We are still waiting for one long ball. He didn't have mush time in the pocket and the 5 sacks were by enlarge not his fault. He finished 17 of 26 (65%) for 168 yards and a rushing TD. C+

RB Ronnie is running hard, no doubt. He had his troubles at the begining and his average was low but he broke one run for 27 yards that made his numbers OK. He finished with a career high of 26 carries for 90 yards. C+

WR I don't agree with most people that put Miami's bad passing game entirely on Culpepper's shoulders. At times, they were just not open. Chambers got to the game late again. The best thing they did was run two great reverses, Chambers for 39 yards and Booker for 18. C-

OL The run-blocking was OK. But the pass blocking looked bad again as they gave up 5 sacks, sometimes leaving defensive players unaccounted for. D

LB The Titan TEs had a field day but generally they played well against a bad offensive team. C+

DL The D-line did not pressure Collins much. The only two sacks were registered for Keith Traylor. The Zach INT was because of Taylor's pressure on Collins. C+

Secondary Don't be fooled by the numbers, Collins missed some open WRs deep that someone else could have turnes into huge gains. He finished with 269 yards. D

Special teams Welker fumbled a punt he had no buisness returning and Mare missed a 30 yard FG, there is just not excuse for that, baseball dirt or no baseball dirt. Jones had a huge day (6 punts 52.7 average) saving this unit's grade. D-

Coaching At least they won the game, but who are we kidding, the Titans are a very bad team. This will not be enough even against the Texans on the road next week, not to mention the Jets. C




On the 1st of November, 1970, RB Mercury Morris, gained a Dolphin record of 302 combined yards. He ran 8 times for 89 yards, received 3 balls for 68 yards and returned 6 kicks for 145 yards.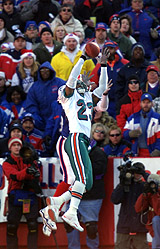 CB Patrick Surtain