Dolphins vs Raiders game summary

11/1/99

Grading the Dolphins

QB Huard didn't play very good on sunday. He started the game very slow. He did complete some passes later on, but he really didn't get in the game. He had 3 long plays to OJ for 34 yards and a 36 and 28 yard passes to Gadsden, who had a fine game and ran very good after the catch. Huard had 5 sacks on the day for -37 yards. In 3 games he was sacked 16 times compared to 2 sacks in 4 games by Marino, he has to throw the ball away. The problem is that he doesn't have the experience that Marino has and he doesn't want to make the bad throw resulting in a turnover. He finished the game 16 of 32 for 221 yards (rating 72.5). The most important thing is he didn't throw an interception. C-

WR The recievers did their part. Gadsden had 3 catches for 70 yards, and proved once again he can make big plays and run after the catch. OJ had 2 for 54 yards and Martin 3 for 34 yards. JJJ had a nice 17 yard reception setting the Collins TD. B-

RB Another solid performance by the running game. It is doing well. Marino is out so more pressure is on the running game. They get a lot of carries and they get better every game. The running game produced 141 yards, second highest this season (149 vs Phil.).
James Johnson had a big game rushing for 86 yards in 21 carries. Colins had 49 yards on 15 carries. JJJ also ran out the clock on the last drive effectivly, converting a 3rd and 1. JJJ did a good job on the last drive of the 1st half also, taking Miami out of bad field position. There is no RB question, JJ wants to keep them both fresh. Remember Collins fumbled on his 26th carry last week, he alerady played a "long" season for him with the pre-season. B+

Cecil Collins running in the game, Miami did a lot of running against Oakland.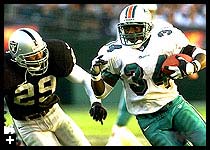 OL A fine day for the O-line. If you are rushing for 141 yards you must be doing something right. On the other hand, 5 sacks is too much, but some of those sacks are Huard's fault. Marino would have made the O-line look better in the sacks column... B
DL Again the defense did not allow a TD. They had 5 sacks and limited the league leading Raiders to 80 yards on the ground (they came in with an average of 136). They started strong, Gardener got his 1st sack of the year. Taylor got a sack. Bromell got a sack that pushed him to 4.5 on the season, all coming in the last 3 games. Armstrong had 2 sacks and an important one at the end. It looked as if they slowed down in the 2nd half but they came back in a crucial situation at the end of the game, with back to back sacks. A
LB Zach had another pass defended, already tieing his carrer high of 10 on the year, part of that are the good CBs, forcing teams to throw to the LBs. Solid game for the LBs, like the rest of the defense. A-
Secondary The Raider QBs completed 9 passes all day... Gannon was 7 of 28 and 1 INT (T-Buck returned it for -15 yards...). Brown caught 7 balls for 113 yards, but really they weren't that important, there was no real offense for Oakland. A
Special teams One good return by Oakland on a punt, apart from that the coverage team was good. They contained Kaufman pretty good. They did have a missed FG ending Mare's streak at 19 consecutive FGs. They also had a bad kickoff that went out of bounds and Oakland got the ball at their own 40. Jacquet was as usual in the last few games very very good with 2 big returns (33,25). He finished with 3 returns for 64 yards. The puntting was good also. B+
Coaching Calling a QB sneak on 4th and 5 inches is one thing, but 4th and 1 (with Miami's record), instead of a sure FG in a low scoring game... JJ thought that if they don't get it the defense will stop Oakland and he was right. A win is a win and a road Marinoless win is even bigger. B+