Dolphins vs Patriots game Summary

12/10/06

Grading the Dolphins

QB Harrington did a solid mistake-free job. He finished 18 of 30 for 190 yards, 1 TD and no INTs. A solid day. B

RB Sammy Morris did a fine job replacing Brown. He especially played well late in the game when the Dolphins needed to preserve the victory. Morris broke a 44 yard run late to put the game away. He finished with 25 carries for 123 yards (4.9 average) with 1 TD. His average went up as the game went on, he started with a 3 yard average and ended with close to 5. B+

WR Is there anyone that still thinks Booker is not a better WR than Chambers ? I always thought Chambers was inconsistent. Chambers is having a bad year (this game 3 receptions for 11 yards) while Booker is playing great football all year. Booker finished with 8 catches for 103 yards and a TD. His 32 yard TD and a 26 yard brilliant catch that set up the second score were monster catches. He deserves an A all by himself. McMichael added 3 catches for 39 yards and Morris had 2 for 31. Welker caught only one pass for minus one yard. It was all Booker, and he was great, truly the Marty Booker show. A

OL The team did a fine job protecting Harrington most of the time and as the game progressed they opened up holes for the running game. They had a solid day blocking, remember it was the Patriots D they were facing, They are a great D. B+

LB They played a solid game. Zach was all over the place, Crowder was fine and Spragan broke downa an important pass at the begining. B+

DL The D-line almost killed Brady. Taylor reminded everyone why he is a strong candidate for defensive player of the year. He had one sack and a million hurries and knockdowns. Carter had a sack, Holliday had 0.5 sacks and the emerging Roth added another 1.5 sacks. A

Secondary 66 yards, that's the Patriots total passing yards. Sixty six. Brady finished with 78 yards and he probably is hurting all over right now. Bell had a fumble recovery and a sack that caused a fumble. hill had 8 tackles (6 solo) and Bell had 9 (5 solo) the Patriots leading receiver ? Troy Brown - 3 catches, 25 yards, that's twenty five yards, enough said. A+

Special teams Punter /donnie Jones had 3 punts inside the Patrios 5. The Dolphins' win can be attributed, in part, to their field position. They did give up a 50 yard kick return but other than that they played well. Mare hit 2 FGs and Welker did a fine job returning punts (obviously, the Pats did not score so he had a chance to return only one kickoff which was deep and went for a touchback) A-

Coaching The Dolphins played their best game of the year. It was mistake free as far as turovers, they handled one of the best teams in the league. They just flat out beat the Pats in all aspects of the game. Had they played like this last week, they would still be in the playoff picture. Too bad the turnaround came so late this season. The defense is playing so well you wonder, if Culpepper was healthy... What might have been... A




On the 1st of November, 1970, RB Mercury Morris, gained a Dolphin record of 302 combined yards. He ran 8 times for 89 yards, received 3 balls for 68 yards and returned 6 kicks for 145 yards.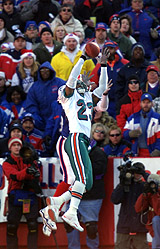 CB Patrick Surtain