Dolphins vs Chiefs game Summary

11/12/06

Grading the Dolphins

QB Harrington was OK at times. He did miss a few passes but he did not have a turnover. He finished 19 of 35 for 201 yards without any TDs or INTs. B-

RB Ronnie had a good game. 25 carries, 89 yards and a TD. Morris carried 6 times for 20 yards. B

WR They didn't have a great game. Both McMichael and Chambers dropped passes. Chambers had 3 receptions for 66 yards, 46 of them on a flea flicker. McMichael had 5 catches and Welker had 3. Everybody else had 2 or less. C-

OL They are playing better since LJ Shelton moved to RG and McIntosh was moved to LT. The right side of the line with Carey and Shelton looks to be a good combination. Brown had decent running lanes. They did fail twice on 3rd and 1, but generaly they plaed OK. Harrington usually had time to throw the bakk. B-

LB Great game for the LBs. Both Crowder, Zach and Spragan played well. Spragan had a few nice plays and Crowder was all over the place again. Zach also had a sack. A-

DL The D-line was huge. They did seem to tire a bit in the second half but then again they did manage to keep Larry Johnson under 100 yards, which is quiet an achievment. He finished with 75 yards on 18 carries. A-

Secondary A very good game by the secondary. Bell was great again with solid coverage and some big hits. They didn't get a turonver. Bell led the team in tackles. A-

Special teams They blocked a FG but Mare also missed from 50. He just does not kick as good from 40+ as he did in the past. I would not be surprised if he won't kick next year for the Dolphins. The return game was solid but Welker did fumble on one return that the Dolphins recovered. C

Coaching They played very well in the first half. In the second half the defense looked tired but played well. The reason I say that is because Huard, at times, had too much time to throw the ball. The secondary played well, where were the coaches for the first 7 games, Bell should have been starting from day 1. Nice win. The Vikings are next at home. They are beatable. B+




On the 1st of November, 1970, RB Mercury Morris, gained a Dolphin record of 302 combined yards. He ran 8 times for 89 yards, received 3 balls for 68 yards and returned 6 kicks for 145 yards.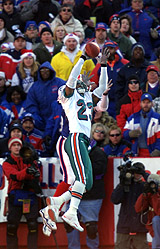 CB Patrick Surtain